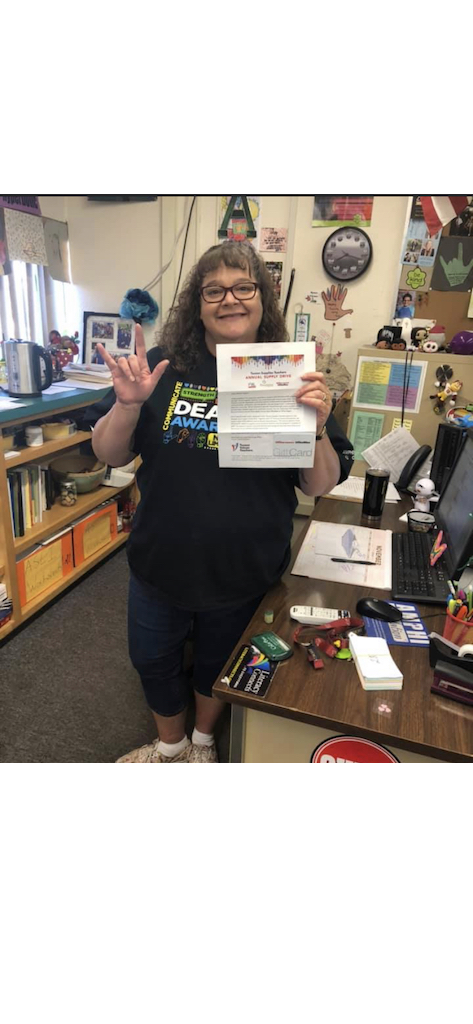 Phone: 520-696-5379
Email:
Degrees and Certifications:
1994 AA Pima Community College, Interpreter Training Program. 2004 Bachelor of Science from the University of Arizona, majoring in Deaf studies with my emphasis in educational interpreting 2016 Masters in Education from the University of Arizona 2019 partnership with University of Arizona & Pima Community College for dual enrollment opportunities for our students! ♥ 2020 Adjunct Faculty at Pima Community College I have held national certification from the National Association of the Deaf, and have an EIPA (educational performance interpreter assessment) of 4.2.
Ms.

Sjana Summons

Ms. Sjana Summons

Welcome to my ASL class! I was born and raised here in the Old Pueblo. My love of ASL started when I took my first course in college for fun, and I was hooked! I couldn't wait to learn more and more!! I changed my major that night from psychology to an ASL interpreter.

Life Experience

I have worked for Pima Community College and Community Outreach Program for the Deaf and Hard of Hearing as an interpreter.

I worked with the South East Regional Cooperative, a division of the Arizona State School for the Deaf and Blind for over 20 years as an educational interpreter in public schools across the southeast region of Arizona.

My core education beliefs

I believe that every student has the right to a quality education. Regardless of where you live or which school you attend, every student is a valued contributor to our society.

My defining moment in education

Was when a professor told me that I was a "natural" when it came to sign language. She told me that I should really do something with my gift. I owe that professor the gift of my career.