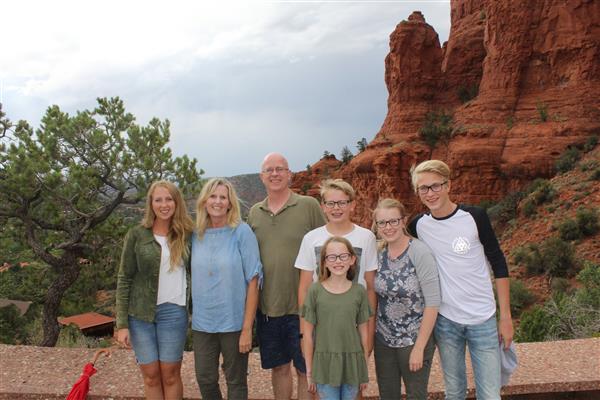 Phone: (520)696-5821
Email:
Degrees and Certifications:
Brigham Young University - Bachelors in Science California State University Hayward - Masters in Bilingual Education EL endorsement - State of Arizona Certifications in California and Arizona
Mrs.

Heidi Beazer

I am so happy to be working with your K-8 English Learners this year! I have been married to an Arizona native for the past 27 years and we are both double E's. He is an Electrical Engineer and I am in Elementary Education. We have 5 children. Our oldest daughter is in the nursing program, and our 2nd daughter is at BYU studying Arabic and International Diplomacy. We have 2 sons at Ironwood Ridge, a junior and a freshman. Our baby girl, is 11, and in 6th grade here at Wilson. Our family loves to spend time at the beach, play tennis together, and read. They often get roped into helping me with school projects:).

My defining moment in education:

I love learning about the different cultures of my students and am so proud of my students, because I know it takes courage to come to another country and learn a new language. When I was 21, I took a break from college and served a mission for The Church of Jesus Christ of Latter Day Saints in Honduras and Belize for 18 months. I fell in love with the hispanic people and their culture and was amazed at how patient they were with me and my feeble attempts to learn their beautiful language. I eventually learned Spanish, after a few months of wondering what language I had taken 4 years of in high school! One of the things I experienced was teaching people how to read. I decided upon my return, that I would continue to study as a teacher and work with those from other countries who wanted to learn English, and try to show them the same patience the people of Honduras had shown me.

Prior experience:

I started out my profession teaching a 6th grade bilingual class in the Pendergast School District, right here in Phoenix, AZ. Then I moved to a 5th grade bilingual class in Anaheim, California. In Brookfield, Connecticut, I taught English Learners in a pull out program for students ranging in age from kindergarten through high school. Now back in Arizona again, I have been at Wilson for the past 3 years, and Innovation since it opened. Can you believe I have had students who've spoken over 20 different languages! So cool! I love getting to know the personalities and cultures that make up who my students are!