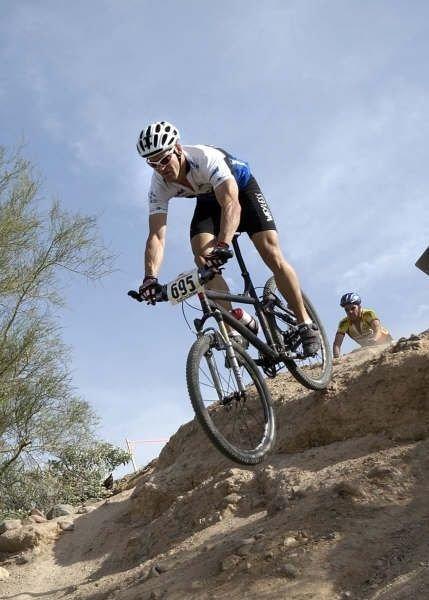 Phone:
Email:
Degrees and Certifications:
Mr.

Chuck Hess

Just a little about me:

My name is Chuck Hess and as you can see in the picture above, I love to ride my bike. I spend a lot of time on my bike trying to stay fit. It is a great way for me to exercise and also unwind. I try to live each day to its fullest, making the most out of every situation. I try to ride as much as my busy schedule will allow but it never seems to be enough. My greatest accomplishment in this arena is becoming an amature National Champion.

It is very important to me that we live in such a way that we are a good example to others. If you were a friend of mine or you were to come to one of my classes, I would hope you would see that acted out by me every day. I believe we should treat others the way we want to be treated and those that treat others with disrespect are only thinking of themselves. I try to see the positive in each and every person as everyone has a lot to offer. It is my goal to make every student that comes through my class feel accepted and that who they are matters.

I have 15 years of teaching experience in which I have taught PE, Science, Technology,In-School-Suspension, and STEM. I have earned my Masters Degree in Educational Leadership. I coach a variety of sports including wrestling, volleyball, track, softball, and cross-country.

Thank you for viewing Mr. Hess ' PE page. If you are a parent reading this, it shows you have interest or concern about what your son or daughter is doing in my class. If you are a student reading this, I am happy you are interested in your grade. I hope my website is informative and helps answer any questions you have about my class. This website should have enough information to answer most questions you have about Hess' PE classes.

During the year, my classes will be doing a wide variety of activities. I hope to challenge all my students to do their best at all times, both physically and behaviorally. It is my goal to positively impact students and be a role model in terms of fitness and health. I know that fitness has been an important part of my life and I hope to pass it on to my students. There is not a day in my life that I regret being health conscious and I know in the long run good health pays off. I have never heard anyone say they regret taking time to get or stay in shape.

I know the middle school years are important cross-roads in terms of life long habits. Right now, your sons or daughters are making decisions that will carry on throughout their lives, specifically in terms of health. I hope they are making a decision to either stay in shape or get in better shape. I also hope that they are getting the support from home to make good decision in terms of health. Positive parent support in this capacity will drastically change their outlook and attitudes when it comes to life long fitness goals. I know when it comes to my son and daughter, I want them to be as healthy as possible and I plan on modeling that to them.