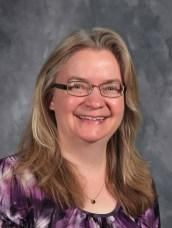 Phone: 520-696-5966
Email:
Degrees and Certifications:
Ms.

Karen Lefevre

Welcome to my language arts classes' webpage! I'm Karen Lefevre. (My last name rhymes with "receiver.") I have been working with middle school students since 1997. Currently I teach advanced and regular 7th grade classes. I love challenging students to deeper levels of thinking about literature, and I enjoy helping them gain confidence as writers.

Defining Moments in My Education

As a first grader, I was captured by my young teacher's caring spirit. As a high school student, I had two social studies teachers who challenged me to think critically about the world, as well as a French teacher who encouraged me, through her example and through the language skills she gave me, to get outside my comfort zone and explore the world. In college, my first creative writing instructor gave me lasting confidence as a writer; the lessons she gave me about the writing process are part of my reading and writing instruction to this day.

Core Educational Beliefs

I want students to understand writing as not just an end product, but a process that evolves. I want students to understand that behind everything they read, there is a person who made intentional choices. I believe that well-crafted literature can be understood in multiple ways, at multiple levels. I hope that students leave my classroom more willing to ask questions about what they read and more confident about approaching academic challenges.

Prior Experience

Although I've lived many years in Iowa, Tennessee, and Georgia, I'm a Tucson native. I began my career at Toltec Middle School, teaching sixth grade social studies and exploratories for two years. I was hired to teach sixth grade at Cross in 2000; over the years, I taught sixth grade social studies, math, language arts, and exploratory classes. This is my eighth year teaching seventh grade language arts classes.

Education Degrees and Certification

After graduating from University High, I earned a Bachelor of Arts degree from the University of Arizona in creative writing and French. Later, I went on to receive a Master's in Middle School Education from the University of Georgia. After teaching sixth grade social studies and exploratories in Toltec, AZ, I finally returned to Tucson in July 2000, where I have taught at Cross ever since. I hold an elementary certificate, with middle school and SEI endorsements.