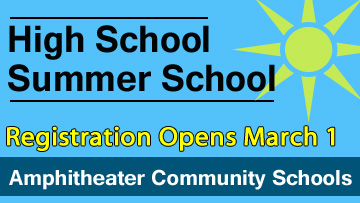 Registration for summer school is closed.
Amphitheater School District will offer two three-week semester courses at Ironwood Ridge High School this summer. Registration opens March 1, 2017. Students from all district high schools are eligible, and may earn up to one transferable credit by participating in both semesters. Attendance is critical in summer school, only one absence (excused or unexcused) per semester is permitted. Final exams are given on the last day of each semester and attendance is mandatory. Refunds will only be provided if a class is canceled due to low enrollment or if the request is made prior to the first day of each semester.
*To ensure proper placement, we highly recommend meeting with your school counselor prior to signing up for any class.
WHEN:
Semester 1: Mon. – Thurs. June 5 – 22, 2017,

8:00 am – 2:00 pm

Semester 2: Mon. – Thurs. June 26 – July 13, 2017 (No school on Tues., July 4th),

8:00 am – 2:00 pm
WHERE: Ironwood Ridge High School, 2475 W. Naranja Dr.
TUITION: $150 per semester
REGISTRATION/PAYMENT:
Click here to download directions for paying using inTouch.
Click here to access the inTouch
system to register and pay. You must click into "District Offices" to find the summer course offerings.
For more information, please contact Tim Ripp at tripp@amphi.com, Erika Genis at egenis@amphi.com, or call 696-5695.