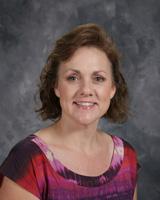 Phone: 520-696-6042
Email:
Degrees and Certifications:
B.A. in Elementary Education University of Arizona Endorsements: Early Childhood Education Structured English Immersion
Ms.

Peggye Springetti

Welcome to my webpage! My name is Peggye Springetti and I have been teaching at Harelson since 1992. I love this school! My first 23 years, I taught a variety of grades: Kindergarten, 3rd grade, 5th grade and Math Intervention.

This year I am servicing Kindergarten - 3rd grade in Reading Intervention. It's Awesome! I enjoy working with kids of all ages, helping them climb the academic ladder and feel successful as they go. In addition, I am a Coordinator for various district and school-wide assessment and collaborative teams, allowing me to work not only with students, but parents, teachers and administrators as well. I wear many "hats" at Harelson, but I love working with people and the diversity of my job!

I view this wonderful school as my "home away from home." Harelson will always be near and dear to my heart. All three of my children attended here through 6th grade and two of my grandkids experienced this phenomenal school as well. I can't imagine teaching anywhere else.

Defining Moment in Education

As a child, I imagined myself being a teacher. I forced my brothers to play "school" with me and I always had the leading role, "teacher." As a college student though, choices needed to be made and I began to question my life-long interest. I signed up to volunteer at Harelson (of all places) in 1988 to be certain I was choosing the right major for me. By the end of my first day helping in kindergarten, I knew I had found my passion.

Core Educational Beliefs

Providing a warm classroom climate is vital to student learning. All children deserve to feel special and know that they are loved. School shouldn't be boring and learning needs to be fun! I believe that if students are excited to come to school, the learning will easily follow.