IEP meetings to be held as scheduled via Zoom or phone conference.

Posted by

Christina Lisowski

on

8/4/2021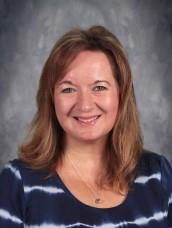 Phone: 520-696-6628
Email:
Degrees and Certifications:
Certificate of Clinical Competence; Master of Arts in Speech-Language Pathology; Bachelor of Arts in Communicative Disorders
Mrs.

Lisowski, MACCC/SLP

Welcome to the Coronado K-8 Speech Department. My name is Chrissy Lisowski and I have been working as a Speech-Language Pathologist since January 1994. I have been the Speech-Language Pathologist at Coronado K-8 and Coronado Head Start Program since August 2008. Prior to Coronado K-8, I was one of two Speech-Language Pathologists at Wilson K-8 from 2004-2008. It has been a true pleasure to help students become effective communicators during their academic career.

Defining Moment in Education: When I first enrolled in college at The University of Akron, in Akron, Ohio, I was torn between majoring in Education or Psychology. After hearing a fellow classmate speak in my Public Speaking class about Speech-Language Pathology my freshman year, I was immediately drawn to find out more about this field of study. After meeting with one of the professors in the College of Communicative Disorders, I was accepted and enrolled into that college and declared my major.

Core Educational Belief: I believe every student is unique in their thinking as well having individual learning styles that need to be embraced to allow them to reach their full potential. In addition, I believe students improve their communication skills through opportunities that allow them to actively communicate so they can practice using their good speech-language skills.

Prior Experience: Before making our home in Arizona in 2001, my husband, myself and our two children were living in Warren, Ohio. Prior to 2000, I worked as a medical Speech-Language Pathologist in various settings including skilled nursing care, home health, subacute, inpatient/outpatient therapies and private practice. I made my transition to the school setting in January 2000 after feeling the pull to work with children after having my own. Working in the schools has truly been a joy and very rewarding.