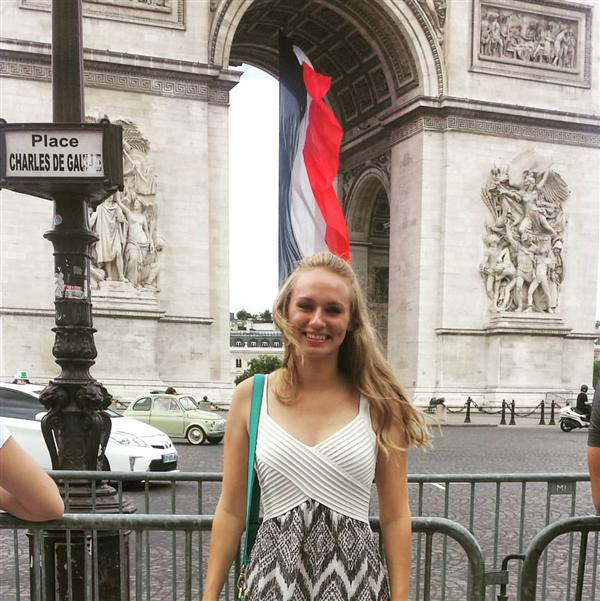 Phone: 520-696-5612
Email:
Degrees and Certifications:
Bachelor of Science in World Language Education (P-12) with a Concentration in French from Indiana UniversityMinor in German from Indiana University
Sarah Moser

Welcome: Bonjour parents and students! My name is Mademoiselle Moser and I am the French teacher at CDO. I am excited to be teaching all levels of French, including AP and IB. You can find fun things like "Le mot de la semaine" (Word of the Week) and helpful links to resources here. You can find the Quizlets that we use in class here. For help with French grammar, LAITS is a website with helpful examples. Here is a link to passé composé and imparfait practice.

Defining Moment in Education: My two French teachers from Middle and High School really encouraged my studies and helped me to succeed. Their enthusiasm for teaching French was inspiring, and led me to take French for all five years (8th-12th grade) and continue my studies in college. I also found that other students would approach me for help with French, and that is when I decided that teaching French was what I wanted to do.

Core Educational Belief: I believe that education should be accessible to and enjoyable for everyone. Therefore, I am doing my best to let students know that everything I do in the classroom, during tutorial, after school, etc. is for their benefit. It is also important to me that my classroom is a safe place where students can talk and learn in a positive environment free from bullying and other negativity.

Prior Experience: I have taught in my home state of Indiana at Eastern Greene High School where I taught students grades 9-12. Additionally, I have taught Pre-K through 8th grade students in New South Wales, Australia at the private school The Armidale School (TAS).

Education Degrees & Certification: I earned a Bachelor of Science in Education with a concentration in French, along with a minor in German Language from Indiana University.

Professional Accomplishments: I have received two merit-based grants during my time at Indiana University: the Hutton Pre-Professional Internship Experiences Internship Grant for my study abroad in Austria and the Hutton International Experiences Program Grant for my teaching experience in Australia. I was also invited to join the National French Honor Society, Pi Delta Phi, based on my academic achievement in my French courses.