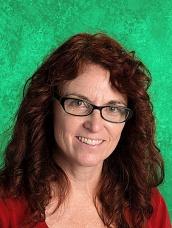 Phone: 520-696-5272
Email:
Degrees and Certifications:
Dual major BA in elementary education and Specific Learning Disability from Kearney State College in Kearney Nebraska. Master's program at University of Nebraska at Omaha, in the Mentally Handicapped field. Professional Accomplishments I have been honored with being a presenter at the ACHIEVE Conference in Phoenix.
Mrs.

Julie Cook

Welcome Message

Hello, my name is Julie Cook and almost every aspect of my life involves new learning and new experiences. For over 25 years, I have worked with students with special needs. I began my career in Nebraska, but most of my experience has come from my time with Amphitheater School District, where I have worked with children in kindergarten through 8th grade.

My husband and I have 4 children, 3 post high school and 1 in high school. Our family enjoys snowboarding, boating, traveling and working together.

Defining Moment in Education

I do remember exactly when I knew I wanted to be a special education teacher. In 8th grade, my Girl Scout troop volunteered at a special needs classroom. I loved the children and wanted to teach and learn with them. One of the best parts of my world is to be with children and listen to how they think, what they say and to see how they react to their world. Every day, I am privileged with the treasure of words and actions from my students. I enjoy the challenge of breaking down barriers to their learning and try to bring out the best of my students' abilities.

Core Educational Belief

I believe all children can learn and for those that struggle with learning, we just have to find the way to let their learning out. It is important to be patient, have high expectations and adjust my teaching to their learning.

Prior Experience

While teaching in the Amphitheater School District, I spent 3 years at Amphi Middle School, 14 years at Wilson K-8 with 3rd-5th graders and for the past 10 years I have worked with kindergarten through 4th grade special needs children at Rio Vista Elementary.