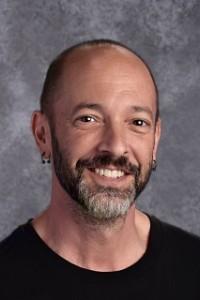 Phone: (520) 696-6852
Email:
Degrees and Certifications:
Bachelor's degree in Special and Elementary Education from Northern Arizona University Certificate in Early Childhood Education
Mr.

Dennis Yawitz

Welcome

Hi, I'm Dennis and I'm so excited to be coming back to Copper Creek. I actually started my career here as a preschool special education aide and classroom volunteer when my son was in kindergarten. I continued at Copper Creek while I got my degrees in Special and Elementary Education and did my student teaching here, as well. Hard to believe that was over 7 years ago! Since that time, I have taught Special Needs Preschool as well as the last 3 years teaching a combo 4th and 5th grade class at Satori Charter. I'm excited to have a combo class here as well and be able to bring my experience and build on it at a place as welcoming as Copper Creek. When I'm not teaching, I'm hanging out with my son and our Great Dane. I love 60's Sci-Fi imagery as you will be able to tell by our classroom theme of robots. I'm looking forward to meeting all the new families and coming back home to Copper Creek!

Defining Moment in Education

When I was in third grade, I had an amazing teacher. He ran his class differently than other classes and gave us the freedom to explore topics in ways that we were interested in. In those days, that was revolutionary thinking! I hope to bring the same excitement that I felt to all of my students. I want them to take charge of their learning and not just do something because I tell them to, but to do it because they are interested and truly want to learn. Every year I have taught, my students have been an inspiration to me. Whether it is learning a math concept that they couldn't figure out or presenting a report on a topic they are now interested in, it's the kids that keep me going and striving to be better, because they do it every day!

Core Educational Belief

I believe in building a strong classroom community where everyone feels comfortable and safe to explore. Learning cannot happen if a student is too concerned about who they are going to play with or will they be included. In my class, everyone is included, and it creates a beautiful family by the end of the year where everyone is free to learn. I also believe that respect and responsibility are two ways streets and if I expect it from my students, then I have to be the role model. Within this structure, we motivate each other. I want to make available exciting experiences for my kids, and they want to do their best work.

Prior Experience

I started my teaching career as a Special Education Preschool Assistant and continued to teach Special Needs Preschool for several years. After that, I taught a combination 4th and 5th grade class for 3 years. I will be continuing this combo class as Copper Creek.