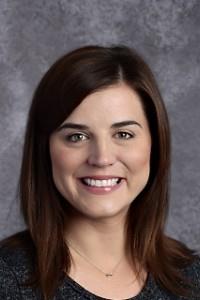 Phone: (520) 696-6859
Email:
Degrees and Certifications:
I received my Bachelors of Science in Special Education and Rehabilitation from the University of Arizona's College of Education. I am highly qualified in K-12 Cross-Categorical Special Education and have an SEI Endorsement. During the 2015-2016 school year, I served as the special education representative for our districts EDISA team. Throughout my time in EDISA (examining data to improve student achievement) I helped analyze data and implement a plan to improve student achievement for those who receive special education services within the Amphitheater Public School District. I have served as the Special Education Facilitator for Copper Creek Elementary School since 2018 and as an IEP Coach for Amphi Schools since 2021.
Mrs.

Erin Engelhard

Welcome to our classroom! My name is Erin Engelhard and I am the Intermediate Cross-Categorical Special Education teacher here at Copper Creek Elementary School. I have been blessed to be apart of the Amphi community since 2011 and the Copper Creek community since 2016.

Our cross-categorical special education program at Copper Creek services students in 3rd, 4th, and 5th grade. We give all students of various ability levels the opportunity to be successful academically and socially while accessing grade level standards and curriculum. It is truly a joy getting to know, work with, and love our students over the course of the three years they are in our class. I am the luckiest teacher at Copper Creek!

Our classroom has four wonderful teaching assistants:

Mrs. Vita Thomas

Mrs. Becca Erickson

Mrs. Jennifer Franklin

Ms. Cami Reinhardt

Our teaching assistants are such an important asset to our classroom. Their dedication, work ethic, and passion for teaching and encouraging our students is truly what makes our classroom such an exceptional environment to learn and grow in. I am proud to teach along side them every day!

About Mrs. Engelhard

I was born in Atlanta, Georgia and spent my elementary years in Austin, Texas before moving to Tucson when I was in the 7th grade. I was both born into and married into a family of educators. My mother, sister, husband, father-in-law, mother-in-law, sister-in-law and brother-in-law are all proud educators in Arizona! My husband, Michael, is a Physical Education teacher at Twin Peaks K-8 school. Our love story started at the University of Arizona in an adaptive physical education class. The rest is history!

When I am not at school, I enjoy spending time with my husband and our two young children, Rory and Kate. It is so fun to see the world through their curious eyes!