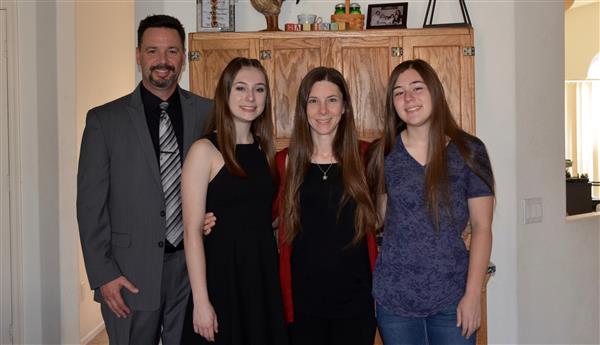 Phone: (520) 696-4270
Email:
Degrees and Certifications:
Masters of Education - Special Education & Business/Marketing Education Bachelors of Science & Education - Sports Marketing & Management
Mr.

Daniel Habinek

I hope this finds everyone safe and healthy. It was quite difficult to walk into our classroom today knowing I would not be greeting our students today. I miss them all dearly! I know these are unsettling times, but I want you to know your Ironwood Ridge Family is working hard to create as much calm, peace, and stability for both parents and most importantly our students.

This week we are focusing on providing student's with enrichment activities. This will hopefully give students, parents, and teachers a chance to adapt to this new learning format. We are all learning and growing through this experience together! Please be patient as we embark on this new adventure and please be sure to let me know if you hit any speed bumps along the way and I will do my best to help or find someone who can help us both! 🙂

If you feel that your student will not be able to access online learning, please let me know ASAP. We are working on alternate plans for students that do not have access.

Students will also be using Google Classroom to access and complete assignments. Most students have accessed Google classroom for in-class assignments this year. You may even see some past assignments we have done to help us learn how to use Google Classroom. There is a new assignment for every student and they can feel free to complete it as soon as they login. Here is a link to a video to help you and your child access their Google Classroom account at home. https://www.youtube.com/watch?v=2Iowi-gmbys
Your student's login credentials are below:
Email: 300.....@student.amphi.com (Your child has a unique 300..... number. They all know it well, but if for some reason they forgot it just let me know and I will send it to you.)
Password: They should have this, if not please let me know and I can provide via District
Students do NOT have access to email through their student account so please do NOT try to login through gmail since you will get an error message. Be sure you are on the regular google.com page for the easiest access.
If your student does not have a class listed they can join my class by clicking "join class" using the plus sign at the top right corner of the page and entering my class code: 35m6swn.
Thank you all so very much for your continued support and partnership with your student's learning. Together, our Ironwood Ridge family will be here to support one another and we will get through these tough times as a team.
I hope everyone has a great evening and as always, please feel free to contact me with any questions or concerns.
Educationally yours,
"Mr. H", Dan Habinek
ZOOM Meeting Info:
Here are the Directions and Zoom Etiquette Page/Online Classroom Rules:
At the beginning of every new school year we review classroom rules and expectations so all understand what our classroom culture will be. Our zoom culture will be the same as our daily experience in A310. Kindness, Respect, and Support.
1) You can use your phone for Zoom (the app is free).
2) Schedule your zoom sessions in google classroom on the zoom form provided. If you have trouble with this, please email me (dhabinek@amphi.com). I will post the zoom link and ID # on google classroom
3) Do not underestimate the strain on your internet connection if multiple family members are online. Try to properly schedule with your family so you eliminate any connection struggles.
4) Let all family and loved ones know that you are conferencing with your teacher and students ahead of time to eliminate noise and potential exposure of private conversations amongst your family.
5) Pick a quiet space to conduct zoom sessions (preferably at a table of some sort).
6) Have your computer or phone set in a steady place so as not to move constantly.
7) Mute your microphone to eliminate background noise (unless asking a question).
8) You will still need school materials handy such as pen or paper if you need to record any vital information.
9) Have your questions and concerns written down ahead of time so I can make sure you get your questions answered. Many of your questions can be posted on the zoom form in google classroom that I have provided.
10) Do not post our zoom sessions on any social media or other online sources. I have not given permission for that.
11) Eating during zoom sessions is very distracting for others so please schedule yourself accordingly.
12) As always, appropriate attire and language.
This is a new adventure for us all. If anything, we are all learning new tools that can only help us in the future. Be patient, kind, and stay healthy.
Welcome to Ironwood Ridge High School, Home of the Nighthawks! I am a Special Education Instructor with 18 years of educational experience. In addition, I have a passion for assisting students to reach their fullest potential and obtain their highest goals. Honored to be a part of Nighthawk Nation and the Special Education Department. I'm honored to be "The Voice Of The Nighthawks" as the Public Address Announcer for Football, Boys Basketball (Freshmen, JV and Varsity), and Girls Basketball (Freshmen, JV, and Varsity). My wife Angie is a 2nd grade teacher at Mesa Verde Elementary School and we have 2 beautiful daughters along with 6 dogs (Blue, Oso, Marley, Tucker, Maverick, and Romeo).
Course Syllabus
Study Skills/ProjectLIFE

Quote
Far better is it to dare mighty things, to win glorious triumphs, even though checkered by failure... than to rank with those poor spirits who neither enjoy nor suffer much, because they live in a gray twilight that knows not victory nor defeat. -Theodore Roosevelt

Education
Bowling Green State University - Masters of Education - Special Education & Business/Marketing Education

Bowling Green State University - Bachelors of Science & Education - Sports Marketing & Management
Prior Teaching & Education Experience
Project SEARCH Instructor @ University of Arizona & Pima JTED, Tucson AZ 2010-2019
Delaware Career Center - Student Services, Delaware, OH 2009-2010

Penta Career Center - Student Services, Perrysburg, OH 2006-2009

Normandy High School - Business and Marketing Education Instructor, Parma, OH 2005-2006

Jesup Scott High School - Business and Marketing Education Instructor, Toledo, OH 2004-2005
Professional Business Experience
Cleveland Browns, National Football League - Customer Relations Coordinator & Player Liaison, Cleveland, OH 1999-2002