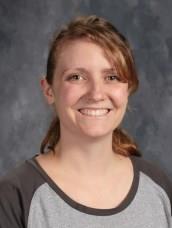 Phone: (520)696-6477
Email:
Degrees and Certifications:
MS-Speech Language Pathology Vanderbilt University MA-Psychology Stanford University BA-Psychology Stanford University
Ms.

Kimmy Scheible

ABOUT ME

I'm Kimmy (Ms. Scheible), and I am thrilled to be the speech-language pathologist--"Speech Teacher"--here at Nash! I moved to Arizona this year from California where I was a speech teacher in a preschool program. Prior to my training as a speech-language pathologist, I worked as a paraeducator in California working in early intervention and in the Deaf and Hard of Hearing department. Throughout my training and education I've always found ways to be involved working with, teaching, tutoring, and playing with kids. As a speech teacher I work with students who receive speech services, assess students for whom the team has potential communication concerns, and provide support to all of our general education students by consulting with teachers and providing insights about classroom interventions to help with communication. I am really honored to have the opportunity to work with the wonderful staff, parents, and students of Nash Elementary School.

What does a "speech teacher" do?
For more information about the role of a speech pathologist in the schools, see the following link-or ask me!
ASHA The Role of the Speech Pathologist in the Schools


MY TEACHING PHILOSOPHY

I believe that the power of communication is remarkable. I want all students to be the best communicators they can be. I believe that learning language and improving speech skills is a fun and very social endeavor. I think repetitive practice is great to strengthen skills, but natural learning and discovering language and speech tools in fun and exciting contexts unlocks the most communication success. I try to use naturlaistic activities including early literacy activities, reading stories, playing games, making crafts, and exploring and adventuring to open up the world of communication to my students. Sometimes we practice our words, structures, or various goals over and over, but I think when we practice them while doing fun and functional activities they are much more meaningful and easier to learn.