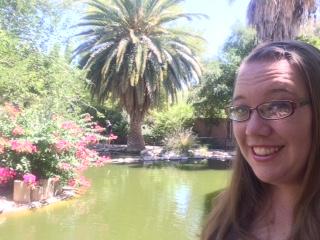 Phone: 520-696-5851
Email:
Degrees and Certifications:
BA Elementary Education
Ms.

Devon Busby

There's no PLace Like the 5th Grade with Ms. Busby!

Welcome to 5th Grade.

My name is Devon Busby and I am looking forward to my 14th year teaching at Wilson! I was born and raised in Southern California but moved to Tucson in 1992 where my family is originally from and have been students in the Amphitheater School District since the 1940's. I attended both La Cima Middle School and graduated from Amphitheater High School in 1998 (my grandparents also graduated from Amphi in 1952!). From high school, I attended the University of Arizona and received my bachelor's degree in Education and a minor in dance. My time at the UofA was not only spent studying and dancing, I was also a member of the Pride of Arizona Marching Band like my grandpa- except I was on the flag line.

Besides being a teacher, I am the mom of the year to three amazing kids; Annie (8th Grade), Alexander (5th grade) and Aaron (3rd grade). We spend a lot of time together on the football field! Annie is a cheerleader and Alex and Aaron play tackle football for the Oro Valley Dolphins where I am the Cheer Director and coach. I have three beautiful cats; Zippo Bono, Rocket Booster and Apollo Moon. I love animals so much that we have classroom pets! Frankie is our very spoiled citrus bearded dragon! He loves kids and the classroom so much that he can't wait to roam around while everyone is learning. There is also Oz Pascal a veiled chameleon, Munchkin - another bearded dragon, 3 firebellied toads that are as obnoxious as they come. We also have Elphaba the Tarantuala and 3 Beta Fish. I also LOVE the Wizard of Oz, palm trees, California beaches, Chris Daughtry and UA football!

My teaching passion is American History. I have been fortunate to attend the Colonial Williamsburg Teacher Institute in Virginia (1 of 10 teachers chosen from Arizona in 2013), the American Revolution Master Teacher program in Washington DC (1 of 12 teachers chosen from the United States in 2015) and this past summer I attended the Slavery in George Washington's World at Mt. Vernon (only 2nd teach from Arizona to attend in 19 years). Before I flew to Mt. Vernon, I spent a week in HUntsville, Alabama at the Rocket and Space Center attending the Honeywell Educators Space Academy (Space Camp for Teachers - 1 in 200 teachers from around the world. In 2015 and 2016, I presented at the Space Exploration Educators Conference in Houston, Texas at the Johnson Space Center. My love for American History and Space Exploration go WAY beyond the classroom!