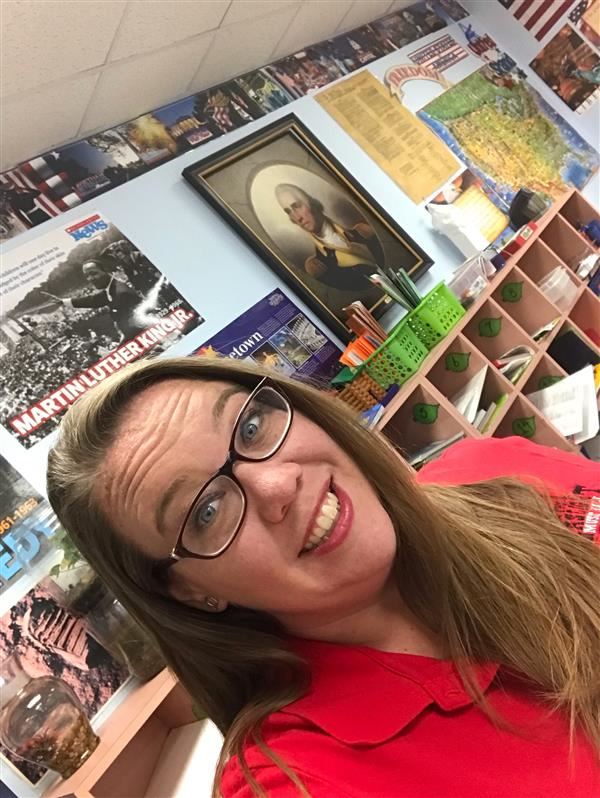 Phone: 520696-5892
Email:
Degrees and Certifications:
University of Arizona - Bachelors in Elementary Education
Ms.

Devon Busby

There's No Place like 8th Grade!

My name is Devon Busby and I'm an in my 15 year of teaching at Wilson K8! I have taught graqdes 2, 3, and 5th and now feel like I'm over the rainbow teaching my passion, Social Studies! My other passion in life is my A TEAM - Annie (9th grade), Alex (6th grade) & Aaron (4th grade). The 4 of us are highly involved in football (Go Dolphins!) and cheer (Go Nighthawks!). Besides teaching, I am the Head Cheer Coach at Ironwood Ridge High School.

Defining Moment in Education

My 8th grade teacher from La Cima Middle School, Anne Fitzsimmons - who now teaches at Ironwood Ridge High School, taught American history in a way that always resonated within me. It was real and relevant, intense, and honest. I have been given several amazing opportunities as an educator that I bring back to the classroom:

In the summer of 2013 I was given an opportunity to attend the Colonial Williamsburg Teacher Institute where history had come alive once again. While there, we studied Jamestown - the first successful American Colony. We spent time on the streets of Williamsburg where our founding fathers spent time and had a reflective morning at the battle site of Yorktown.

In 2015 & 2016, I was asked to co-present at the Space Exploration Educators Conference at the Johnson Space Center in Houston, Texas- NASA! Our focus was how to sustain life on Mars and making space exploration exciting for students ... they will be the ones that will be going to Mars!

During the summer of 2015, I was selected to attend the master teacher program at The American Revolution Institute in Washington, DC… Again, another incredible experience where history came alive. This was also my first time in Washington, DC. I was absolutely overwhelmed by its beauty and significance. And ... I finally got to go to Ford's Theater where President Lincoln's life was taken, something I had wanted to do since 8th grade.

In June of 2018, I was selected as one of 200 from 2000 applicants from around the world to attend the Honeywell Educators Space Academy in Huntsville, Alabama. There we learned was to make space exploration relevant to our students. From Space Camp, I flew to Washington DC where I was invited to attend the George Washington's Mt. Vernon master teacher program where I studied the enslaved at Mt. Vernon. Here the focus was seeing the past through different perspectives. What a mind trip it was from studying the future of space exploration to traveling back in time 300 years prior and staying at Mt. Vernon engulfed in the world of George Washington.

Educational Belief

Inquiry-based approach to teaching and learning. Authentic learning connects the classroom to students' lives beyond school. My essential question for my students this year will be, "How is what I am teaching you about the past, relevant to you now and for your future?"