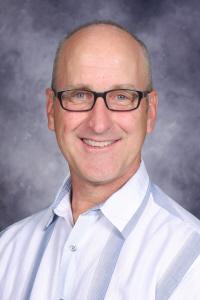 Phone: (520) 696-6726
Email:
Degrees and Certifications:
Bachelor's Degree - Commercial Physical Education - Colorado State University Master's Degree - Exercise & Sports Sciences (Corporate Wellness) - University of Arizona Post Baccalaureate - Elementary Education - Arizona State University
Mr.

Michael W. Pastor

WELCOME TO MIDDLE SCHOOL MATHEMATICS!

I am a native of Colorado, yet I have lived in Arizona for 31 years. I have taught science for 6 years and mathematics for 21 years. I have taught mathematics at Coronado for the past 18 years. My wife is also a teacher in the district. She teaches 3rd grade at Wilson K-8. I have two wonderful children. My daughter is 21 years old, and my son is 19 years old. I cherish them very much. I am an avid Denver Broncos and U of A Wildcat fan.

DEFINING MOMENT IN EDUCATION

I worked for Salt River Project in Phoenix, AZ in their corporate wellness program. I taught wellness and fitness classes for the emplyees of the company as well as supervise the company's fitness center. I enjoyed teaching adults. In fact, I enjoyed being a teacher. In addition, my wife was a third grade teacher at the time. She inspired me to enter the teaching profession. I wanted to use my skills as a teacher to motivate and inspire young people, intially, through science,, and ultimately, through teaching mathematics.

CORE EDUCATIONAL BELIEFS

I believe all young people can learn. My job, as a teacher, is to motivate students to learn and provide realistics, real world applicatin to what I teach. I want my students to realize that learning takes hard work and is a life-long process. I challenge my students through goal-setting. As a result, I strive to set high expectations for student performance.

PRIOR EXPERIENCE

I was a 7th grade biology teacher for 6 years in Phoenix, AZ in the Cartwright School Distric. Since joing the Amphitheater School District, I have taught mathematics for 21 years. In addition, I have taught a STEM (Science, Technology, Engineering, & Mathematics) class for four years. The STEM class is a design & modeling and robotics class.

PROFESSIONAL ACCOMPLISHMENTS

I am a high qualified mathematics teacher with a middle school mathematics endorsement.