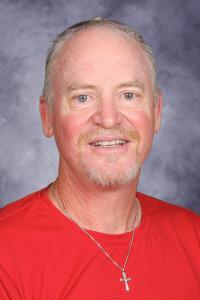 Phone: 520-696-6652
Email:
Degrees and Certifications:
Bachelors degree from Ball State University, Muncie Indiana
Mr.

Retherford

What to do during the Corona Virus school cancelation.

I hope this message finds you all well. During these times of isolation it is so important that y'all get out and move. Please make sure that you get out, ON YOUR OWN, for at least 30 minutes to an hour every day. Put some music in your ears and take a little jog/fast walk. For those that are able have your parents mark out a mile and time your self to keep up with what you have been doing in PE class. Try and set a new PR on your mile. Maybe you can ride your bike, jump on the trampoline, take your dog for a walk, help your parents with chores around the house etc. Just move. I have a new Activity Log attached to my email and google classroom.

Welcome Message

This is my 16th year here at Coronado. I look forward to another great year!

I have a beautiful bride of 37 years, a daughter and a son. We were all born and raised in Indiana. My daughter is married has blessed us with two grandkids. They continue to live in Indiana. My son and his wife also live in Indiana.

I enjoy visiting my family back in Indiana, hunting, camping, fishing and golf. I am a huge fan of the Indianapolis Colts and Indiana basketball.

Defining Moments in Education

As with many teachers I was influenced by teachers that I had growing up. They are the reason that I teach now.

Core Educational Belief

I am a true believer that there is a direct correlation between physical fitness and academic achievement. One is no more important than the other.

Prior Experience

I graduated from Ball State University in Muncie Indiana and I have taken most of my continuing/post graduate classes from Indiana University. I have 12 years teaching experience with Fort Wayne Community Schools in Indiana where I taught Physical Education, High School Biology, 7th grade Science, and technology.

This is my 15th year here at Coronado where I teach Physical Education and I also serve as the Athletic Director.

I look forward to another great year!