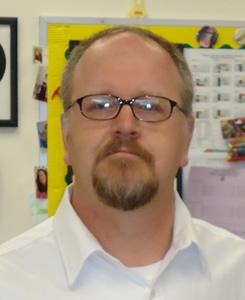 Phone: 520-696-5632
Email:
Degrees and Certifications:
BA English, University of Arizona, Tucson, Arizona CELTA, Columbia College, Vancouver, British Columbia Standard Secondary Education Certificate in English, Arizona Department of Education
Mr.

Rob Girard

I've been teaching English language arts at Canyon del Oro High School since 2007, and Theory of Knowledge in the International Baccalaureate Diploma Programme since 2012. I began my career teaching English as a foreign language in South Korea and then Ecuador. I taught English as a second language when I returned to Tucson, after which I taught English language arts at Pueblo Magnet High School.

Story of my life

I graduated from Sahuaro High School, and then the University of Arizona, and I studied at Arizona State University.

I travel regularly and extensively across Europe with students. I enjoy experiencing the cultures and histories anew through the eyes of my charges every time we tour.

I'm father to a most excellent son and daughter.

Defining moment in education

Not one moment, or moments, but people. I can name exactly six men and women who've been important to my professional development, but most among these are my former colleagues Dana Elmer and Marci Bowman. I'm grateful for their example and their mentorship.

Core educational belief

We're born with the freedom of conscience, the rights to think and speak freely. No opinion, idea, or belief--however sincere or personal--is above reasoned consideration and mature criticism, because not all opinions are reasonable, not all ideas are good, not all beliefs are true. We're not born with the right not to be offended.

Courses I currently teach


Advanced Placement English Language and Composition

International Baccalaureate Theory of Knolwedge

Follow me on Twitter @GirardatCDO where I tweet stories and ideas of local, national, and global significance that inform, supplement, and enhance APELC, E9, and TOK. The account's protected so I can avoid spam, so request a follow (parents, too).