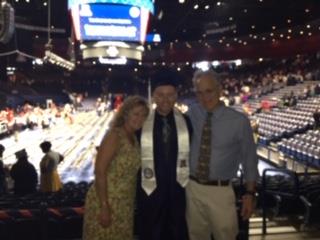 Phone: 520-696-5630
Email:
Degrees and Certifications:
Bachelor of Science Degree in Speech-Communication Theatre, Northern Arizona University, 1982 Secondary Teaching Certificate in English and Drama, California State University Los Angeles, 1992
Mr.

Paul V. Morin

I. Welcome Message: Welcome to my newly revised web page! Please look below for your class code to connect you to Google Classroom.

II. Defining Moment in Education: First as a student, then later as a teacher, I came to realize that learning is not a finite event, but an ongoing, lifelong process of fully becoming who a person is.

III. Core Educational Beliefs: "Excellence is not an act, but a habit." (Socrates) "No significant learning occurs without significant relationship." (Dr. James Comer)

IV. Prior Experience: I was born in California, raised in Alaska, and I earned a Bachelor of Science Degree in Speech-Communication-Theatre at Northern Arizona University. Several years later, I earned a Secondary Teaching Certificate with endorsements in English and Drama. My first teaching experience was as a substitute for two years in Los Angeles County Special Education and Juvenile Court Facilities. Next, I taught English and Drama for four years at Hollenbeck Junior High School in East Los Angeles for Los Angeles Unified School District. My wife (CDO Class of 1978) and I and our two sons moved to Washington State, where we had our third son (CDO Class of 2011), and I taught high school and middle school Language Arts for 16 years north of Seattle. This is my twelfth year teaching English at CDO High School.

V. Class Codes for Google Classroom:

Period Class Code

2 English-11 " uvpwjjo "

3 Pre-AP English-10 " sdlvaet "

5 Pre-AP English-10 " 2ewwotp "

6 English-11 " 3nqhnqj "

7 English-10 " 74m2brs "