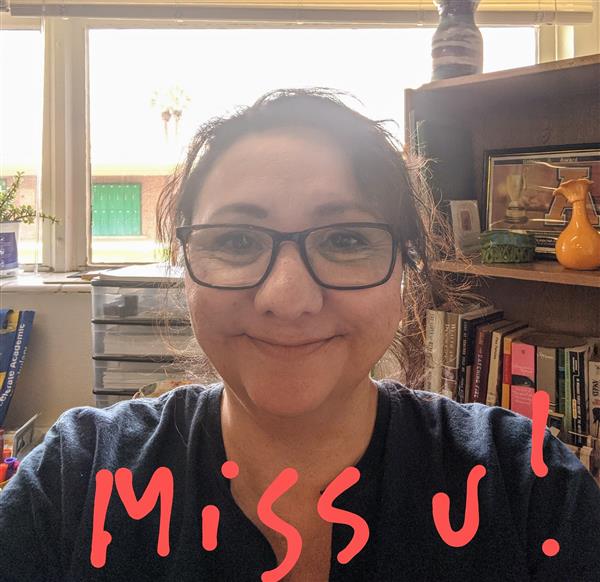 Phone: 520-696-5391
Email:
Degrees and Certifications:
Ms.

Carla D. Garcia

TUESDAY, APRIL 7

Please log-in to Goggle Classroom for your assignments for today, due tomorrow.

3rd/4th and 6th/7th Career FACT or FICTION Review

5th Working with HOMOPHONES

COVID 19 ANNOUNCEMENT Thursday April 2:

Carla Garcia is inviting you to a scheduled Zoom meeting.

Topic: Ms. Garcia ELD CLASSES (3rd/4th; 5th; and 6th/7th)
Time: Apr 3, 2020 10:30 AM Arizona

Join Zoom Meeting
https://us04web.zoom.us/j/8435329223

Meeting ID: 843 532 9223 You DO NOT need a password.

COVID 19 ANNOUNCEMENT Tuesday March 30:

Dear students: All Arizona schools are closed BUT classes and learning are continuing! It is very important that you use the technology you have to continue your classes and to continue learning for the rest of this school year. These are the most important things you should be doing now:

1.) Go to each of your teacher's webpages (from the AHS webpage) and follow the instructions for online learning. Every teacher has an Amphi email that you can use to communicate with them.

2.) Log in to your student Google account (300.....@student.amphi.com) and go to each Google Classroom for assignments, many teachers are using Google Classroom for assignments.

These are the links and codes to my Google Classrooms:

3rd/4th Periods: code is oquwjav

5th period: code is mq4w7sq

6th/7th: code is hgrrfee

3.) Please download this FREE app called ZOOM. It is a video chat app that I want to use with each class. You can sign-up for a ZOOM account with your Google student account. After several students have the ZOOM app, I will invite you to join a meeting and give you a meeting # and a password. You can use the app on your smartphone but it is better if you use it on a laptop, personal computer or chromebook.

4.) Please email me as another way to communicate: cgarcia@amphi.com

5.) Most importantly, check in with any teacher or a school friend, let us know that you and your family are doing ok. We miss you!