Return to Headlines
March 24th Full Return to In-Person Learning Resource Page
Dear Dorado Families,
We have created this page to provide you with information, links and protocols as we prepare to return to our full in-person learning, starting on Wednesday, March 24th.
You will find the following topics on this page for you to reference:
Instructional Bell Schedules
Campus Map/Entry and Exit Points
School Supplies
Daily Protocols and Procedures

Student IDs
Mask Policy
Best Practices
Cleaning Protocols
Wellness Checks
Lunch Protocols

Attendance Procedures
Water Bottle Filling Stations
Instructional Bell Schedules:
4th Quarter Bell Schedules
Click on the schedule below to download the PDF!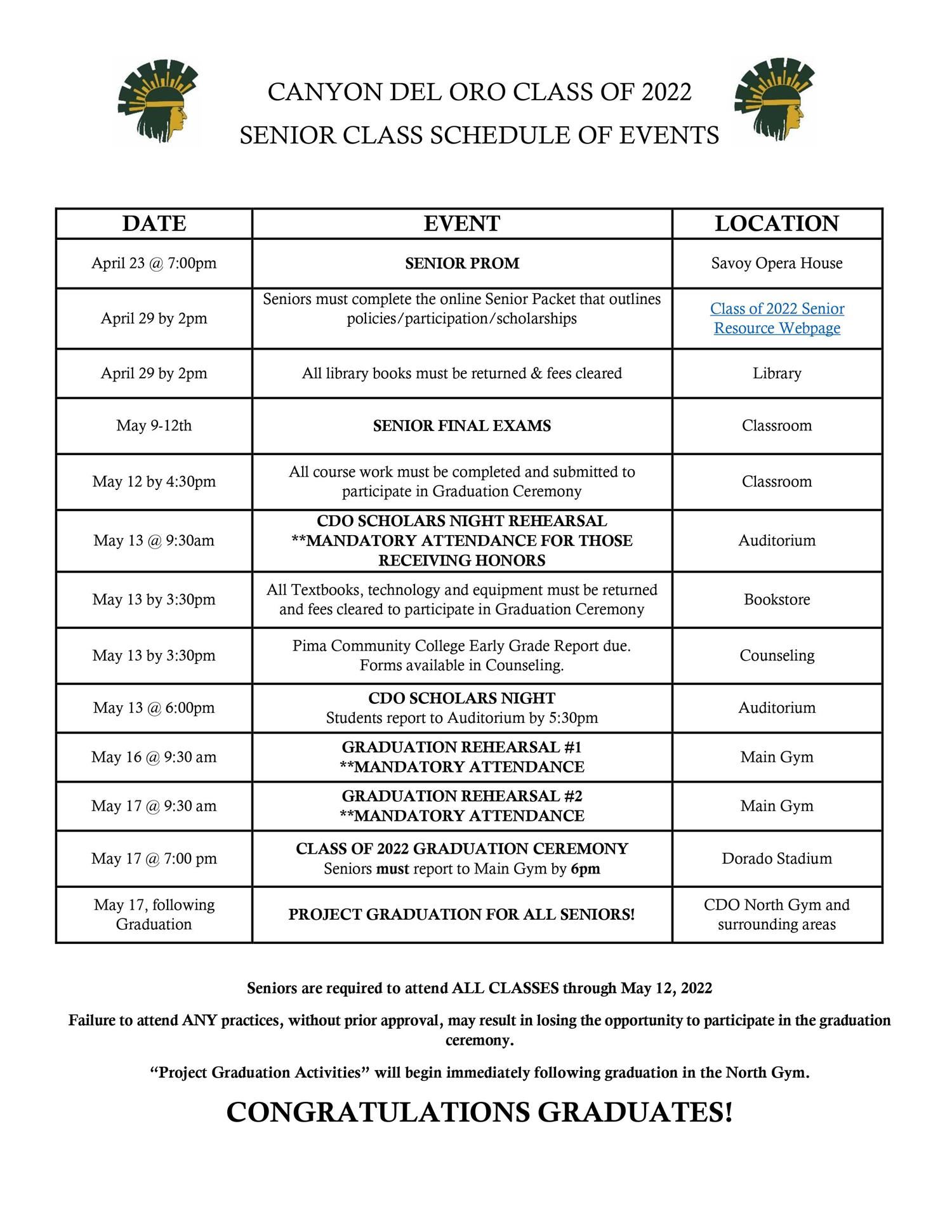 Campus "Flow", Entry and Exit Points & Maps
1st Period Students: Any student with a 1st period class should not arrive on campus before 6:45 am. The first bell for 1st period rings at 6:58 am, with class starting at 7:05 am each day. Temperatures will be taken at the "T" Gate.
All Other Students: Students who begin their day with 2nd period should not arrive on campus before 8:00 am. The first bell for 2nd period rings at 8:18 am, with class starting at 8:25 am.
As students arrive on campus, they will enter through four designated "Entry" gates. We will have CDO staff at each of these gates for wellness checks, verify students are in compliance with Amphitheater School District's mask requirement, and ensure that every student has their Canyon del Oro Student ID displayed. The four points of entry are seen in the map below:
"T" Building Gate in "upper" or west parking lot

"Admin" gate between Library and Bookstore

"South Gym" gate between Dance room and South Gym

"E" Building Gate on the bus loop for students who ride the building
We have created a campus map to demonstrate the "flow" of traffic for staff and students. Generally speaking, we will be implementing the following protocols to minimize social gatherings before school, during passing periods, and after school.
Most buildings will have only one entrance point, and one exit point. Most buildings will be ENTERING FROM THE EAST, AND EXITING ON THE WEST.

Some buildings have specific entrance and exit points identified to assist with the flow of traffic, as seen below.

Breezeways and sidewalks with have two walkways identified to support the flow of traffic, in addition to directional arrows.
CLICK ON THE MAP BELOW FOR A LARGER VIEW: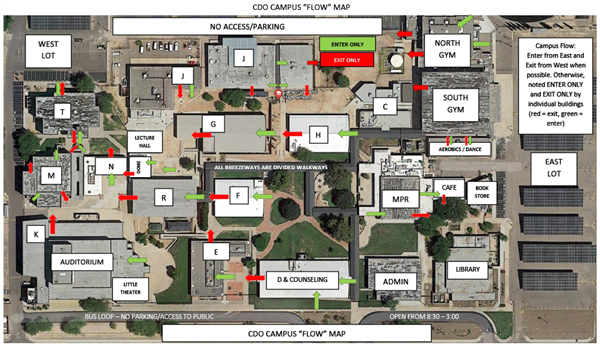 School Supplies
Some items that we are asking for all students to bring with them when possible:
Water bottle

2 face coverings (in case one is lost, and to provide clean mask for morning and afternoon)

Individual mini white board with dry erase markers (to assist with social distancing during learning)

Device (if possible) to allow for minimized use of textbooks and handouts. Cell phones, tablets and laptops are acceptable.
Daily Protocols and Procedures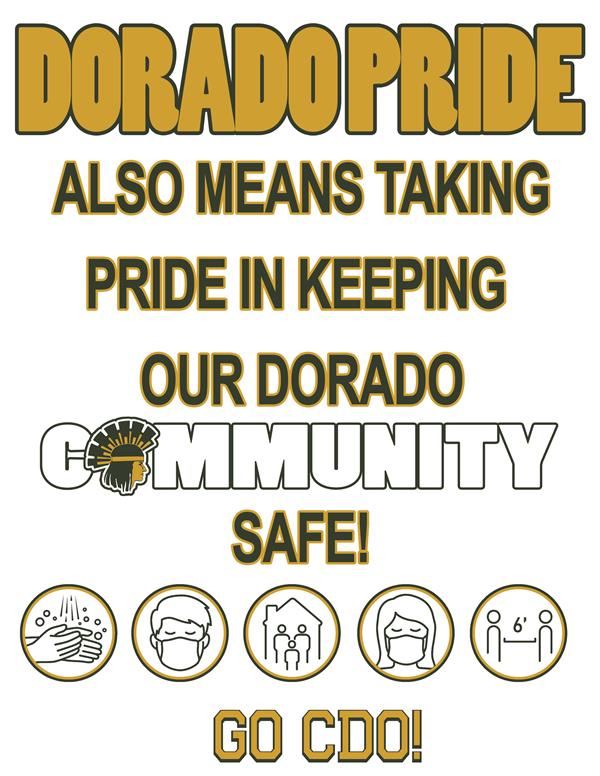 Student IDs
Every CDO student must wear their Student ID on a lanyard on their person, visible for any staff member to see. Please go to the CDO Bookstore if you need an ID.
Mask Policy
All Staff and Students are required to wear a face covering/mask at all times while on campus. Students can remove their masks at lunch time, but must immediately put their mask back on after eating. For more information on the Amphitheater School District's mask requirement, please review the Governing Board Policy Regulation GBGB-R below:
Best Practices
No food or drink will be permitted in classrooms to reduce mask removal. Water bottles are fine. Water fountains will be closed on campus, but water bottle filling stations will be available.
Students and staff should practice social distancing as often as possible, both in school and at home.
Wash hands frequently with soap and water, or use hand sanitizer and avoid touching your face.
Staff and students should stay at home if they are experiencing COVID-19 symptoms or live with someone who is COVID-19 positive.
Click here to review the flowcharts provided by the Amphitheater School District that address the following questions/topics:

Should I report to school?
If a student appears to be sick
Positive case on campus
If a staff member becomes ill
Cleaning Protocols
All desks and chairs will be cleaned every day. Students can assist with the cleaning of their own desks. Teachers can spray, and students can wipe desks.

Everyday cleaning protocols will include disinfecting all high touch surfaces such as: door knobs, desks, phones, tables, chairs, faucets, bathroom stalls, etc.

1 Gallon hand sanitizer pumps have been provided in every classroom.

Alcohol/Clorox wipes will be available to sanitize computer keyboards and other devices.

Rooms will be ventilated to the extent possible.

Libraries will set aside returned items for the time period recommended by the CDC before handling.

A COVID-19 Response Team has been formed that can respond to a suspected case of COVID-19 to provide deep sanitizing of necessary areas.
Wellness Checks
All students will have a wellness check before entering campus at one of the entry points noted in the map provided.

The four entry points where temperatures will be taken on campus are:

"T" Building Gate

"E" Patio Gate for Bus Riders

"Admin" Gate between Library and Bookstore

"Gym" Gate between Dance Room and South Gym

ALL STAFF AND STUDENTS are responsible to conduct a daily self-screen and answer the following questions at home before coming to a District site.
COVID-19 DAILY SELF-SCREENING QUESTIONS
| | |
| --- | --- |
| All students and staff are responsible to conduct a daily self-screening and answer the following questions at home before coming to a District site. Fever of 100.0 degrees or higher | YES or NO |
| Subjective fever (felt feverish) chills/shaking | YES or NO |
| New or worsening cough | YES or NO |
| Shortness of breath | YES or NO |
| Sore throat/muscle or body aches/headache | YES or NO |
| Diarrhea/nausea/vomiting | YES or NO |

Lunch Protocols
All students are encouraged and expected to wash their hands before eating lunch.

Hand sanitizer dispensers will also be available in the lunch room.

Student seating will be limited to only four students per table, with a divider.
Outside seating will also be available for students as well. All tables and benches have a limit of four people.
Off campus permits for lunch will be allowed, however, vehicles may only have four students per vehicle and the driver and passenger must be masked in the vehicle. In addition, students who go off campus for lunch are not permitted to go to "dine in" establishments. They must only go to "drive through" places and must not exit their vehicles during lunch to reduce potential exposures.
Attendance Procedures
We will be taking attendance every period, every day.
PLEASE CONTINUE TO CALL THE ABSENCE LINE (696-5570) TO REPORT ANY ABSENCES DUE TO APPOINTMENTS, ILLNESS, ETC
Water Bottle Filling Stations
Water fountains have been turn off but students will have access to water bottel filling stations throughout campus that will permit students to fill their water bottles throughout the day. We are asking all students to bring their own water bottles every day.