Return to Headlines
Ironwood Ridge Hybrid Learning Resource & Information Page
This page will provide you with information, links and guidelines that we hope will help your student prepare for the return to the Hybrid learning model.
Amphitheater Family Update (2.12.2021)
COVID Parent Guide (2.12.2021)

10 Tips for Returning to Campus (2.12.2021)

IRHS Hybrid Learning Student and Parent Memo (2.14.2021)

Protect the Ridge: What You Need to Know (Videos) NEW!!!
Cohort Letter, Disclaimer and Waiver:
If your student is new to Ironwood Ridge and/or the Amphitheater District, we ask that you complete and return the following two documents. These documents can be turned in at the front desk in Ironwood Ridge's Administration building.

Cohort Schedule: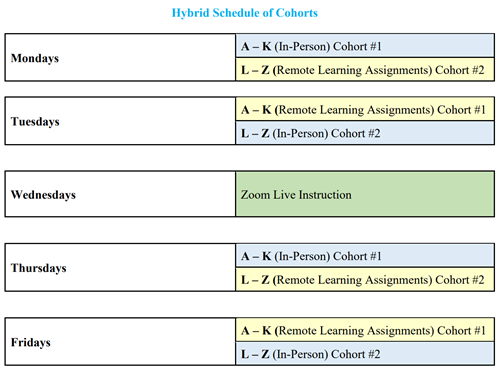 Bell Schedule and Calendar:
Bell Schedule:
Reflected below is an updated copy of the bell schedule we will utilize during the time we are using the Hybrid learning model. The schedule does reflect our two lunch schedule on Mondays, Tuesdays, Thursdays and Fridays.
Wednesdays:
Wednesdays will include "live" Zoom instruction for every period. Wednesdays will continue to follow the early out schedule.
Calendar:
The link below will direct you to the updated calendar that reflects changes for the duration of the 2nd semester.
IRHS Annual Calendar - Updated
Campus Maps:
We have updated our campus maps to assist students who are new to Ironwood Ridge. The updates include a campus overview of the building areas, outside areas and points of student entry. We have also updated our classroom maps to reflect the name of the teacher(s) assigned to a room.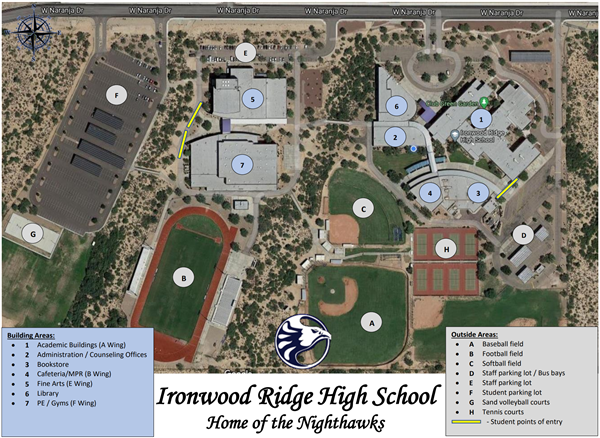 Daily Protocols and Procedures:
As students arrive on the days they are assigned by cohort, students will enter campus through three designated points of entry. Staff will be at each point of entry to take students temperature using a thermal scanner, verify students are in compliance with Amphitheater School District's mask requirement, ensure students have their Ironwood Ridge student ID displayed and provide hand sanitizer.
Points of Entry:

Student Parking Lot / Parent Drop-off and Pick-up:

Students who have been approved to park in the Student Parking Lot and purchased a parking pass or students who are dropped off/picked up by a parent.

Students will enter campus via the two gates highlighted on the above map.

Bus Bay:


Students who are transported to/from school on one of Amphitheater's buses.

Students will enter campus via the large gate.

Safety Protocols:
Masks:
Staff and students are required to wear masks at all times on campus. Students can remove their masks at lunch but must immediately put their mask back on after eating.

For more information on the Amphitheater School District's mask requirement. You can reference Governing Board Regulation GBGB-R, accessible using the link below.
Governing Board Regulation: GBGB - R
Student IDs:
Ironwood Ridge Student IDs must be visibly displayed at all times on campus. IDs can be displayed on a lanyard or clip.
Hallways:
Hallways around campus have been marked with "lanes" and arrows to keep students moving in similar directions. Staff will be stationed at classroom doors and intersections of halls to ensure students are not congregating or stopping.
While moving around campus, particularly in the hallways, it is important that students move directly from one class to their next class.
Stairwells:
The north stairwell has been designated as an "up only" stairwell. This stairwell is adjacent to the elevator by the A201 - 216 hallway.
The south stairwell has been designated as a "down only" stairwell. This stairwell is located by the A228 - A238 hallway.
Hand Sanitizer:
As students enter campus, they will be instructed to use hand sanitizer. Additionally, hand sanitizer will be available in every classroom, the library, cafeteria, bookstore and other areas of campus.
Water Bottle Filling Stations:
Water fountains have been turned off for the time being; however, we have numerous water bottle filling stations around campus that will allow students to fill their water bottles throughout the day.
Students should plan on bringing a water bottle to school every day.