Posted by Angela Hitt on 3/21/2020
I hope that everyone is well. It's been a week! I've been researching the best way to teach from home. It seems that teachers will be providing online resources but due to everyone having varying access to technology it may look different for each of us. I want to be a support to you and your family. I will be using Google Classroom as one resource. I will post projects and videos that can be done at home. Materials will include what can be found around the house and I will also give variations to provide more options. These projects are to promote continuity in their days and hopefully allow them a creative outlet. Additionally, using Google Classroom allows us to connect virtually which I hope promotes some solidarity among us. I am a mom of middle school and elementary children. I believe my children can benefit from keeping up with their academics and having routine in their days. I will also be including some academic resources in the online classrooms and on this page. This will help me keep myself organized and I feel it's important to share valuable resources. If you find amazing online resources, please email me and I will add them. ahitt@amphi.com
I have not uploaded much to the Google Classrooms, yet. I am working on it. Here is what I know so far on how to access them from home.
It appears that you need to log in to Google using your child's amphi account. Personally, I can't remember my children's student numbers for the life of me. However, I have the EZ School Pay app for lunches on my phone and the numbers are in there with their accounts, that's how I find them when I forget. This is how you enter their accounts in google: for email use their student number followed by @student.amphi.com. The password should be their first name with the first letter capitalized. Example if my daughter was named Ava and her student number was 111111 it would look like this: 111111@student.amphi.com Password: Ava. Then go to the 9 little dots in the upper right hand corner of your screen. Click on them. Scroll down to "more from google". Scroll down to "all products" and select "google classroom".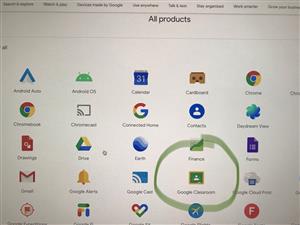 Next click on the + sign in the upper right hand corner. A join screen will come up. If your child is in grades K-2 type in x52uk5o. If your child is in grades 3-5 type in y6eimln. After clicking "join" you should be part of the class. Let me know if you have any challenges. I added my own children as a test and this is what worked for me. As I become better at this I hope to create grade level classes.
The bottom tab on the left side of this website is called "Art Websites", I will be updating that with resources as I find them. Remember all of this is meant to be fun, creative, and enriching! Be well, I miss you all!