Bilingual Clerk - Sandra Aquino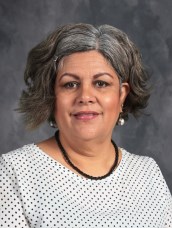 Hi, my name is Sandra Aquino and this is my 15th year at Keeling Elementary as a Bilingual Clerk. One of my responsibilities as bilingual clerk is providing translations for information sent home, conferences between parents/teachers and written communications in Spanish. Assisting with communication in Spanish between parents and the school is my expertise. It is my hope that everyone coming to Keeling will feel welcomed.

Saludos, mi nombre es Sandra Aquino y este es mi quinceavo año como oficinista bilingüe en la Escuela Keeling. Es mi responsabilidad hacer todas las traducciones, conferencias de padres/maestros, así como toda comunicación por escrito en español. Mantener comunicación en español entre los padres y la escuela cuando es necesario es mi destreza. Mi deseo es que todos los que vienen a Keeling se sientan bienvenidos en español y en inglés.