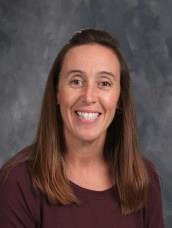 Phone: 1-520-696-6141
Email:
Degrees and Certifications:
Masters in Education Teaching and Teacher Education BS in Sports Medicine/Exercise Science Teacher Certification K-12
Mrs.

Kat Schleicher

Welcome

I am so excited to be the Physical Education teacher for all the Mesa Verde students. I have always had a love for fitness, health and sports. I have played sports my whole life and there is nothing better than playing games and doing activities to teach kids about fitness and health. This year will be filled with many different activities to get the students at Mesa Verde working aerobically. Soccer, basketball, tennis, volleyball and kickball are a few of the team sports they will learn this year. Yoga, archery, bowling, yo-yoing, and jump roping are a few non-traditional activities we will also cover this year. It is going to be a great year for fitness and health at Mesa Verde. I encourage you to come out any time to check out our great program. Volunteers are always welcome!!!!!

Defining Moment in Education

I was sitting in my 7th grade math class and my teacher, Mrs. Valentine, decided to get our attention with a few cartwheels in the front of the class. This was just one of the many ways she would start or finish our class. I was not always the most attentive in math, but she made learning fun and there was always a surprise to her delivery of the material. I knew if I was going to be a teacher, I would make it fun and entertaining for kids to learn.

Core Beliefs

I believe physical education in one of the keys to a higher self-esteem in our youth and every child should have an opportunity to be physically fit. I believe they should be taught by a qualified instructor who is a good role model and willing to help them succeed. Lastly, I believe kids should be taught team sports and how to have good sportsmanship in many different situations.

Prior Experience

I have been an educator for 11 years now. Ten of those years were teaching middle school student's science while coaching soccer for numerous age levels. 2015-2016 was my first year teaching Physical Education at Mesa Verde. It has been a great time so far and I am looking forward to many more years at Mesa Verde

"Why I choose Mesa Verde"

Mesa Verde is what you would call a hidden gem. The school is small and quaint and the staff is friendly and welcoming. The emphasis on kindness resonates through the whole campus and all staff members. It was where I attended elementary school and it brings back great memories being a mountain lion again.