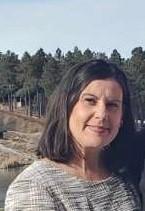 Phone: (520) 696-6385
Email:
Degrees and Certifications:
M.Ed. Education Leadership and Administration-Arizona State University, Graduated~2014 B.S. Elementary Education- Utah State University, Graduated~2000 Gifted Endorsement, ESL Endorsement Professional Awards, Honors, and Accomplishments Awards: Wal-Mart Teacher of the Year, Peter Howell Elementary, Tucson, Arizona-2007 Amphitheater Distinguished Employee Award- Spring 2015 Spearheaded SB1441-2015, Copper was adopted as our state metal in Arizona. Sponsored by Senator Smith and signed by Governor Ducey. Honors: Ben's Bell Recipient, 2014, Tucson, AZ Accomplishments/Grants: Amphi Foundation-Technology Grant-Copper Creek Elementary-2014 Target Field Trip Grant-2011 Education Enrichment Foundation Grant-Magic in the CIrcle 2007 Jordan Education Foundation-Book Grant-Midvale, UT 2003 AT&T Technology Grant-Midvale, UT 2002 LEAD Now Participant 2018-19 with Pima County Superintendent's Office
Mrs.

Jenny Royer

Welcome

My name is Jenny Royer and I am the Assistant Principal at Prince Elementary. I have been at Prince since 2017 and I am so blessed to get to serve this amazing community of learners and staff members.

I grew up in West Texas and have been an elementary educator for 19 years. My husband and I have been married 25 years and we have two beautiful daughters. My youngest, Hannah, is sixteen years old and is a high school student. My oldest daughter, Bethany, is 23 years old and she graduated from Ironwood Ridge High School. Lastly, we have two energetic mini-dachshunds that keep us very busy!

Defining Moment in Education

My defining moment in education occured after I had been teaching for five years. I had a student in my class who was a refugee from Africa. She spoke limited English and my classroom was her first learning experience in an American classroom. That particular year was an amazing growing year for me as a professional. I realized, early on, that my college courses (teaching theory, college algebra, etc.) was not going to help my student survive academically through the school year. Building trust and a relationship was key in cultivating a learning environment for this brave little girl. Since then, I have realized the importance of creating a bridge of trust. (And of course, making learning fun creates a world of possibilities!)

Core Educational Beliefs

When I narrow down who and what I stand for, I can sum it up into one word: Integrity. I believe integrity is being responsible and exhibiting a strong work ethic. Most importantly, I believe that demonstrating integrity is revealed by being honest and having the courage to stand up for what is right.

Prior Experience

During my college years, before becoming an educator, I was employed in some very interesting places! I worked in retail for several years, but my favorite was for a company called Proform Health and Fitness. I helped troubleshoot broken treadmills and exercise equipment over the phone with my customers. I had the opportunity to talk with people from all over the world! It was a really fun job!