Welcome to Canyon del Oro High School!

Defining Moment in My Education: I truly feel like the defining moment in my own personal education experience came during my high school years. I had a phenomenal Spanish teacher who simply would not let me fail and who continued to push me beyond my comfort level in learning a second language. I carried this teacher's passion with me to college and decided that I, too, wanted to instill a love for learning in others and wanted to teach a second language. I am constantly reminded that we as educators can have such a tremendous influence on the future success of our students. I thank Miss Lisa Saylor from Greenway High School for pushing me to become an educator and for being such a rock star of a teacher. I hope that I was able to live up to her rock star status in my teaching days.

Core Educational Beliefs: My core educational beliefs have taught me that effective teachers are effective builders; they build relationships with their students and build leadership capacity within their students to sharpen the learning of those around them. Every child deserves the chance to experience a positive learning environment where taking risks is embraced, encouraged and celebrated, and making mistakes along the way is just par for the course.

Prior Experience: I graduated high school in Phoenix, Arizona and after playing tennis for and attending a community college for a year, I packed up and moved to Tucson to become a Wildcat. After first graduating with a Bachelor of Science in Education, I took my first high school job at Palo Verde high school working on special assignment with the administrative team. After I completed this special assignment, I moved over to Pueblo High School to teach Spanish 1-2, and then Broadcast Journalism for 9 years. After receiving my Master of Education in Educational Leadership, I became an Assistant Principal at Cholla High School and stayed there for 6 years. This is my 6th year as Principal at CDO and the staff, students, community and district make it one of the most rewarding jobs I could ever hope for!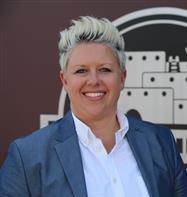 Tara Bulleigh

Principal

Email: tbulleigh@amphi.com

Phone: 520-696-5565

Degrees & Certifications

Master of Education, Educational Leadership

University of Arizona, 2011

Bachelor of Science, Education

University of Arizona, 2002

Major: Spanish

Minor: Bilingual Education