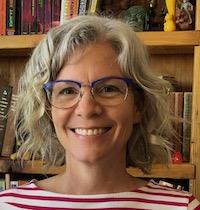 Phone: 520-696-5811
Email:
Degrees and Certifications:
-B.A. English Literature (University of Arizona) -K-8 Teaching Certification (Pima Community) -M.A. Information Research and Library Science (University of Arizona) Endorsements: -SEI -Gifted Education
Mrs.

Andrea "Jill" Shepard

I'm so excited to join the Wrangler family! I'm the new librarian and this is my first year with Amphi. It's been wonderful so far.

Defining Moment in Education

Did you ever have one of those teachers who had so much confidence in you that it made you believe in yourself, too? I hope everyone had at least one teacher or coach or mentor who helped them have that experience. It's such a powerful thing! One of the most amazing parts of working with children is helping them find or build that confidence. It's just incredible to watch the learning and growth that follow.

Core Educational Beliefs

I believe in the power of continuing to be a learner, throughout life. Our children learn more from us when we continue to be learners ourselves. I'll bet we can all think of a time when we observed our children doing something just because they saw us doing it (whether we wanted them to or not!). I know that there are days when I can only hope my students learned as much from me as I did from them. This is another incredible aspect to working with children.

Prior Experience

I am a brand new librarian, and can't think of a better library to be in than the one here at Wilson!

Most recently, I taught third grade here in Tucson. I absolutely love being a classroom teacher, but I have always wanted to be a librarian. This is the best of both worlds for me!