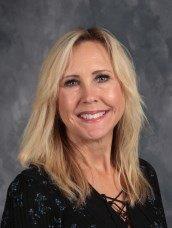 Phone: 520-696-5893
Email:
Degrees and Certifications:
B.S. Biology/ General Science Certification Biology Certification Middle School endorsement Secondary Education Certification SEI Endorsement
Ms.

Patty Howland

Hi,

Welcome to 8th Grade Science and Odyssey of the Mind. I have been teaching since 1991 and at Wilson K-8 since 1998. I am the science department head for the middle school and primary contact for the science fair/SARSEF. I have 2 daughters who went to IRHS and graduated from the U of A. I have grown up in Tucson and have lived here most of my life. I recently got married and have changed my name from Grube (who many of you know me as) to Howland. I am excited about being your teacher. We are going to have a fantastic year!

I have links for 8th grade assignments/Homework and Odyssey of the Mind class. Please click on them for more information.

Core Educational Belief

It is my goal to challenge students in Science and prepare them for high school. STEM and inquiry-based learning are the foundation of my science classes. The lessons are based on using the 5 E's method of teaching (Engage, Explore, Explain, Elaborate and Evaluate).

Prior Experience

1991-96 Biology teacher -Tabb H.S. York County, Virginia

1996-97 7th Grade Science -Cross Middle, Tucson, AZ.

1997-98 7th Grade Science - La Cima Middle, Tucson, AZ.

1998-present 8th Grade Science -Wilson K-8, Oro Valley, AZ.

Important Information:

Google Slides Science Link: This link has daily classwork/homework and the teacher provides notes for class. It is a live document that is updated daily.

Science: https://docs.google.com/presentation/d/1614_vysltv1pc8vBEw02qsRDlxv77jAwKET-FfyXgDI/edit?usp=sharing
It has more details for each day's assignments.
This is just like my daily announcements from my Smart Board (If we were in class – lol)
School Supplies: Students will need school supplies at home and when they return.
THREE-RING NOTEBOOK (1-1.5 inches)- This will be your ISN (interactive science binder)
SIX DIVIDERS (OR TABS) for your binder
A SUPPLY OF THE FOLLOWING: notebook paper, colored pencils, markers, pencils or pens, a highlighter, scissors, glue sticks, calculator, graph paper, 3 x 5 note cards
Please donate school supplies for the classroom for students who have forgotten any materials that day.
I know we will have a fantastic year. Please see Schoolology for any additional information.
Patty Howland
520-696-5893