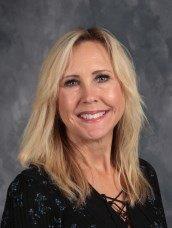 Phone: 520-696-5893
Email:
Degrees and Certifications:
B.S. Biology/ General Science Certification Biology Certification Middle School endorsement Secondary Education Certification SEI Endorsement
Ms.

Patty Howland

May 11, 2020

Hi Class,

This week we are working on turning in late work and reviewing the year with a KAHOOT AIMS SCIENCE review. I encourage all students to play the game several time. As much as we DID NOT have Science AIMS in 8th grade this year I would still like the students to review the concepts. They WILL have a SCIENCE AIMS test in high school. l think in 10th grade. This review is extra credit for 8th grade. The higher the score or percent correct the more extra credit the students will earn.

You will noticed that in the grade book that there is a grade for 3rd quarter. It is the studnets 3rd quarter grade. We are instructed to use this grade as a baseline for the 4th quarter grade. This is important since for many students the 4th quarter grade may not be a true picture of a students work. In theory, it should be similar to the work for this quarter.

I just wanted to thank you all for your patience, help, and understanding this quarter. I know it was not easy for anyone. Please know that I miss your children very much and teaching them everyday. If you need anything or have any questions, please reach out to me.

Class Pacing for this week:

Week of May 13-17

Play Science AIMS review in KAHOOT for extra credit.

https://kahoot.it/challenge/04223629?challenge-id=2d27e9ad-f128-4c7a-a102-86635244d791_1588967568949

PIN: 04223629

Snap a picture of your score. Email it to me or enter it in the assignments for extra credit. Your score will determine how many points you will earn! So keep playing and improve your score to earn more Extra Credit!
More information always found in Google Slides- More detailed help with images!
https://docs.google.com/presentation/d/1gcxeB1twnfa-jTtt_TnN92-
ghVBd7UormeFVTnCRe34/edit#slide=id.g8161f670f1_0_818
Google Classroom:. The daily Google Slides will have more details to work and offer modifications and pictures. You will turn in your work to your Google classroom.
Google Classroom Link:
Access Code: 5wjdj4d
Zoom Meeting: NO Zoom this week.
Please email me if you need any help!! We can always talk on the phone or do a private ZOOM meeting. Please remember, when you email me I need your full name included or I do not know who you are and will NOT open links or attachments from people I do not know. Thank you for understanding.
Mrs. Howland
Welcome to 8th Grade Science and Forensics. I have been teaching since 1991 and at Wilson K-8 since 1998. I am the science department head for the middle school and primary contact for the science fair/SARSEF. I have 2 daughters who went to IRHS and graduated from the U of A. I have grown up in Tucson and have lived here most of my life. I recently got married and have changed my name from Grube (who many of you know me as) to Howland. I am excited to be your teacher. We are going to have a fantastic year!
Core Educational Belief
It is my goal to challenge students in Science and prepare them for high school. STEM and inquiry learning are the foundation of my science classes.
Prior Experience
1991-96 Biology teacher -Tabb H.S. York County Virgina
1996-97 7th Grade Science -Cross Middle, Tucson, AZ.
1997-98 7th Grade Science - La Cima Middle, Tucson, AZ.
1998-present 8th Grade Science -Wilson K-8, Oro Valley, AZ.