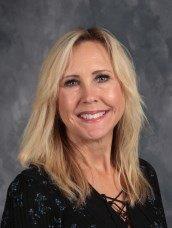 Phone: 520-696-5893
Email:
Degrees and Certifications:
B.S. Biology/ General Science Certification Biology Certification Middle School endorsement Secondary Education Certification SEI Endorsement
Ms.

Patty Howland

Hi,

Welcome to 8th Grade Science, Odyssey of the Mind and Forensics. I have been teaching since 1991 and at Wilson K-8 since 1998. I am the science department head for the middle school and primary contact for the science fair/SARSEF. I have 2 daughters who went to IRHS and graduated from the U of A. I have grown up in Tucson and have lived here most of my life. I recently got married and have changed my name from Grube (who many of you know me as) to Howland. I am excited to be your teacher. We are going to have a fantastic year!

I have links for 8th grade assignments/Homework, Forensics class and Odyssey of the Mind class. Please click on them for more information.

Core Educational Belief

It is my goal to challenge students in Science and prepare them for high school. STEM and inquiry learning are the foundation of my science classes.

Prior Experience

1991-96 Biology teacher -Tabb H.S. York County Virgina

1996-97 7th Grade Science -Cross Middle, Tucson, AZ.

1997-98 7th Grade Science - La Cima Middle, Tucson, AZ.

1998-present 8th Grade Science -Wilson K-8, Oro Valley, AZ.

Welcome Students and Parents:

I am so excited to be your teacher this year! The 1st day of school will look a bit differently with the "Remote Learning by Necessity Model". We will all figure this out together!

To keep our student's safe links and passwords will NOT be shared on the website which is public. These will be found in Google Classroom or emails. All students have been already invited/imported to the Google Classroom and can login with their @student.amphi.com account to find all of their Google Classrooms. So, NO PASSWORDS are needed. The Google Classroom is also linked to the TYLER GRADE system this year. Grades will reflect current live grades in both systems at the same time.

Topics of Concern:

Google Classroom: Student logins for Google Classroom are StudentID#@student.amphi.com and the password is their first name with the first letter capitalized.

All students have been already invited/imported to the Google Classroom. So, NO PASSWORDS are needed. Each class period has its own Google Classroom.

ZOOM: The live link for ZOOM will be posted in Google Classroom (for privacy issues. These live sessions will occur twice a week according to the bell schedule. There will be daily attendance taken each day. Sessions will be recorded and posted in Google Classroom, Classwork- Class Drive Folder. It will also be posted in the assignments.

Attendance: Is always a big issue with schools. This is how they are funded by the state. Teachers will be required to take attendance daily in the "Live Zoom Meetings" and in Google Classroom. A document and directions will be in Google Classroom (and in the Live ZOOM Meeting) for Students to fill out each day/week for their attendance. This is very important that they do this each day. More information about this will be posted soon and may change as better ways are created.

How do I know what work I need to complete? All work will be assigned in Google Classroom with directions and due dates. It will be explained and discussed in Live Zoom Meetings. I will have a CHEAT SHEET in Google Slides for day of school for each assignment. Often will extra details. This is a live document changes often as students have questions and need more guidance. Slides will be added.

Google Slides Science Link:

Science: https://docs.google.com/presentation/d/1P5dD3RDX04ttoq2LaZ_rDxdos1Tmn_rig7F--DPS2S8/edit#slide=id.g8c888aff24_1_0

Forensics: https://docs.google.com/presentation/d/1fM__Byih9L6cpaAUG_OJVmGNFYnDQNIz2aUZ8HuiHCM/edit#slide=id.g86bd70598e_0_0

Odyssey of the Mind: https://docs.google.com/presentation/d/1bExSwkiVUoLJN_SMmLCuWucvdQqk5veWzsggWTZTrvg/edit#slide=id.p
It has more details for each day's assignments
Data and pictures if you do not have materials
Pictures of class work if needed
This is just like my daily announcements from my Smart Board (If we were in class – lol)
School Supplies: Students will need school supplies at home and when they return.
THREE-RING NOTEBOOK (1-1.5 inches)- This will be your ISN (interactive science binder)
SIX DIVIDERS (OR TABS) for your binder
A SUPPLY OF THE FOLLOWING: notebook paper, colored pencils, markers, pencils or pens, a highlighter, scissors, glue sticks, calculator, graph paper, 3 x 5 note cards
A PRINTER access to a printer is highly recommended. If it is not possible to print at home or elsewhere, students will be able to handwrite assignments in lieu of printing. Let me know if this is an issue and I can arrange for hard copies if needed.
There will be NO shared supplies when we return. Please purchase them now while on sale!
Website: The teacher website will be updated as needed. The Google Slides Link will be the most accurate place to daily assignments in addition to Google Classroom.
Link: https://www.amphi.com/cms/Workspace/Section/Section.aspx?DomainId=522
Syllabus: Please read attached Syllabus. It is also posted in Google Classroom. Click Here
I know we will have a fantastic year. Please remember that you have a real live teacher that is here for you every day. I am willing to modify and help you always! I am available to help students during the Google Classroom time, Independent Work time and my office hours. I know we will have a wonderful year!
Patty Howland
520-696-5893
Office Hours: 2pm – 3pm M-For by appointment when not in a meeting or teaching.
Remote by Necessity Grading Policy:
Grading Policy during "Remote by Necessity"
The district guidelines for grading during "Remote Learning by Necessity" state:
1.) "Students are expected to complete and submit assignments by the stated/written due date."
2.) "Students can submit work up to a week late with no penalty. Individual student challenges
should be considered before assigning a grade."
3.) "The minimum grade that can be assigned to a student on any given assignment is a 50%.
Students who are on track to State and course standards mastery, show effort, and meet
deadlines can expect a grade higher than 50%."
In addition to these guidelines, the following grading policies for Language Arts class will apply:
1.) Grades will be recorded in Tyler on a weekly basis. It is the student's responsibility to check grades often and keep track of all missing work.
2.) I use a combination of points and weighted categories to determine grades. Grades will be recorded in either an Assignment or an Assessment category. Assignments are weighted at 35%, and Assessments are weighted at 65%. Point values will vary depending on the amount of work required for each assignment. Most assessments will be worth 100 points.
3.) Missing assignments will be recorded with an "M" in the gradebook. Tyler counts all "M" entries automatically as a zero, so any missing assignments will negatively impact the final grade. If the assignment is completed within one week after the due date, students will receive full credit. Any assignment turned in after this deadline will be recorded as a 60%. Incomplete assignments that show at least some effort will be recorded as a 50%, in accordance with district policy.
Throughout the year, students will be graded in a variety of ways:
Teacher, peer, and self-assess

Participation, effort / improvement

Rubric: performance, product, or presentation

Formative: ongoing with feedback

Summative: final product / test