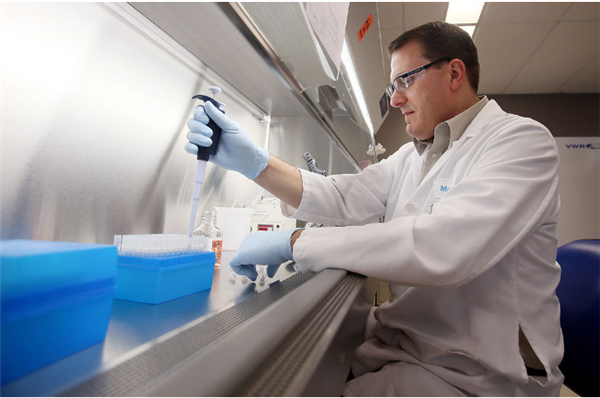 Phone: (520) 407-4162
Email:
Degrees and Certifications:
Saint Vincent College, Latrobe, PA B.S. Biology 1996 Duquesne University, Pittsburgh, PA M.S. Biological Sciences 1998 AZ Teaching Certifications: Biology, Chemistry, CTE Technology 2017
Mr.

Mark J. Pincus, M.S.

COVID-19 Shutdown Information (Updated Friday, March 27, 2020)

Beginning Monday, March 30, 2020, we transition from optional assignments to REQUIRED ONLINE MATERIAL.

Communication with Mr. Pincus:
email (mpincus@amphi.com)

REMIND (see course syllabus for codes)

Google Voice (phone number sent out via REMIND on Friday, March 27, 2020)

Google Classroom: Private Comments in Assignments

Virtual Office Hours on Monday, Wednesday, and Friday from 4:00 p.m. – 5:00 p.m. on ZOOM (https://us04web.zoom.us/j/546991919) Please see ZOOM Etiquette Below.
Continuing Education in the Biological Sciences:
Students will find all work for Mr. Pincus in Google Classroom (https://classroom.google.com). Mr. Pincus' students should check Google Classroom for work in Mr. Pincus' classes according to the following schedule (subject to change):
Period 1 = Biotechnology II and Biotechnology Intern
Periods 2, and 6 = Biotechnology I
Periods 3, 4, 5 = Biology
Periods 1, 3, 5: Monday, Wednesday, Friday
Periods 2, 4, 6: Tuesday, Thursday, Friday
Mr. Pincus will post all ASSIGNMENTS, MATERIALS, QUIZZES, and EXAMS to Google Classroom. Please follow the following steps each time you check Google Classroom by 11:59 p.m. each assigned day:
In the Google STREAM, respond to the question of the day. This is how students will earn 5 points per day. If students DO NOT respond to the question of the day in the Google STREAM, students will NOT earn 5 points.
Move to CLASSWORK. Look for the assignment of the day. Carefully read the instructions and complete the assignment by the due date and time, following the instructions. Communicate with Mr. Pincus if the instructions are not understood or if the student's work will be late. Mr. Pincus will be as flexible as possible given our current situation. Type of work to expect:
Short Virtual Lectures by Video (be sure to take notes)

Reading Assignments (be sure to take notes)

Virtual Laboratories (complete associated Google Forms)

Worksheets

Videos (take notes then complete associated Google Forms)

Live ZOOM Experiences (with at least 48 hours notice)
Quizzes will be posted in Google STREAM most Fridays.
Exams will be ANNOUNCED ONE WEEK IN ADVANCE in the Google STREAM. These will typically be posted on Fridays in the Google STREAM.
ZOOM Etiquette
1) You can use your phone for Zoom (the app is free).
2) Do not underestimate the strain on your internet connection if multiple family members are online. Try to properly schedule with your family so you eliminate any connection struggles.
3) Let all family and loved ones know that you are conferencing with your teacher and students ahead of time to eliminate noise and potential exposure of private conversations amongst your family.
4) Pick a quiet space to conduct zoom sessions (preferably at a table of some sort).
5) Have your computer or phone set in a steady place so as not to move constantly.
6) Mute your microphone to eliminate background noise (unless asking a question).
7) You will still need school materials handy such as paper, pencil, ect..
8) Have your questions and concerns written down ahead of time so I can make sure you get your questions answered. Use the Chat feature in ZOOM.
10) Do not post our zoom sessions on any social media or other online sources. I have not given permission for that.
11) Eating during zoom sessions is very distracting for others so please schedule yourself accordingly.
12) As always, appropriate attire and language.
Be patient, kind, and stay healthy.
National Honor Society Members:
Juniors interested in NHS Leadership for 2020-2021 School Year: Please complete your leadership applications and submit to me via email (scan and send your application) by Friday, April 03, 2020.
All Members: All Community Service and Tutoring Opportunities are on hold due to the COVID-19 Shutdown. Do not stress over your Community Service or Tutoring hours as this is a fluid situation. All of you have provided great service and tutoring throughout the school year! As additional information becomes available as to what the rest of the school year looks like, we will discuss the path forward!
Also, be sure to take care or your families and of yourself!
Nighthawks #flattenthecurve
Mr. Mark J. Pincus, M.S. is excited to serve the Ironwood Ridge High School community as a member of the Science and CTE Departments. Mr. Pincus teaches Biotechnology I, Biotechnology II, and Biology. His classroom laboratory is modeled after a Biotechnology/Biopharmaceutical Company and is called Nighthawk Biotechnology, Inc.. He brings 20 years of research experience to Nighthawk Biotechnology. Mr. Pincus was previously employed in the pharmaceutical and biotechnology industries, working for world class research organizations such as ICAGEN, Sanofi, Aventis, Monsanto, Pharmacia Corporation, and Hoechst Marion Roussel. As a researcher, he presented his research at international meetings and has led collaborations with laboratories at Harvard University (Professor Kevin "Kit" Parker) and the University of Minnesota (Professor Michael Kyba, Ph.D.). Mr. Pincus' research interests are in the areas of muscle cell biology, stem cell biology, molecular/cellular biology, and drug discovery and development. He also serves the Nighhawk Community as the National Honor Society Adviser, the HOSA Bioscience Advisor, a member of the team that fields the Nighthawk Vanguard, and as the Winter and Spring Sports Athletics Manager!
In 2008, Mark was awarded the Young Alumnus of Distinction Award from Saint Vincent College for extraordinary service to Church, community, and science. He continues to serve Saint Vincent College as a member of The Herbert W. Boyer School of Natural Sciences, Mathematics, and Computing Advisory Council (2008 – Current). Mr. Pincus is a native of Philadelphia, PA who has been married to Stacy for 21 years. They have three children, Tyler (IRHS 2019), Abigail (IRHS 2022), and Joshua. Outside the classroom laboratory, Mr. Pincus can be found serving his Church, watching a theatre performance or concert, spending time outdoors, cheering on the Nighthawks, or spending time with his family!
Photo Credit: Mamta Popta/Arizona Daily Star.
Article Featuring the Nighthawk Biotechnology Program: https://www.tucsonlocalmedia.com/news/article_1a0edaec-70eb-11e9-b4dc-077f229765d4.html