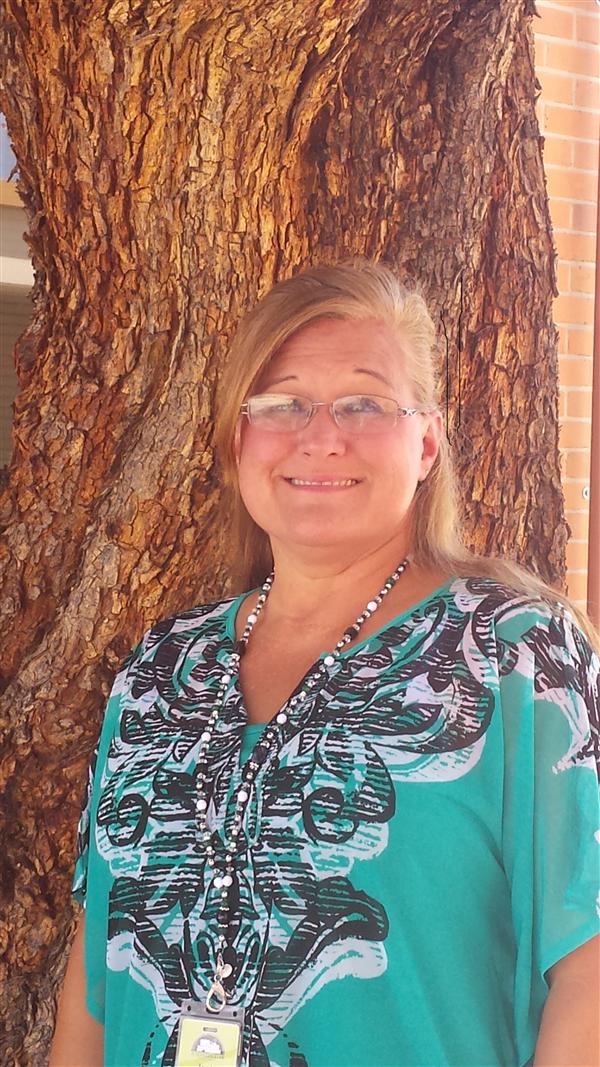 Phone: 520-407-4271
Email:
Degrees and Certifications:
BA General Studies - University of Arizona Teacher's Certification - Prescott College
Mrs.

Jamie Ruiz

Hi Nighthawks,

As we move into week three, I hope you have all learned how to navigatre this e-learning process and that you are coming up with a schedule that is working for you and your families. This is definitely a different way of doing things, but we can adapt. However, I do miss you all, our classroom and our regular routine. This definitely has been a life changing event.

I hope you are all well, keeping your space, eating well, helping out at home and getting some exercise. Exercise, even just walking will help relieve some stress. Journaling is also a good outlet if you are feeling sad, scared, overwhelmed or lost. Grab a pen, a piece of paper and write away. Be good to yourselves and others. As difficult as this is, you will be expected to keep up on your schoolwork. Beginning Monday 3/30/20, we were instructed to begin giving assignments for grades. If you haven't joined google classroom yet, there is a good chance you might be missing some assignments. Your grades are updated with all work pre Spring Break and any late work you turned in. Those will be updated soon to reflect the work the week of 3/30/20.

I realize some of you may have more than one student in your home and lack of technology. I will continue to keep things as simple as possible. Check this page a couple times a week for general info and your google classroom EVERYDAY. If you are still in need of a chromebook, please check with the school office. There are some GREAT, very informative resources on the Amphi district homepage. In order to stay current and connected please make it a habit to check the district webpage for any updates as they come.

Google classroom will be your primary source for keeping up on assignments, asking questions, and all general information including upcoming zoom sessions.

Although our learning looks different, and there are obstacles for all of us to overcome, there is still work to be done and expectations you must meet. As always, I am available by email (jruiz@amphi.com) and zoom session times for each class period are posted in Google Classroom (after Friday 4/3 at 5pm).

Pre-Algebra - Monday 4/6 - May ?:

1. 20 practice problems that are all review. Very similar to bellwork. Do 5 per day and it won't seem so overwhelming. Wait until Thursday, and you might find yourself a bit stressed. They will be posted on Google classroom. You can print them and do them or just write them out on notebook paper and do them. Either way submit them through Google classroom. They will be do on Thursdays by 11:59 p.m. On Thursdays there will also be a 10 question quiz (on a google form) over the practice problems, due on Fridays by 11:59 pm. These assignments will be a completion grade and a quiz grade respectively.

2. ALEKS will be our main math assignment location online. You have been using this program since September and are very familiar with how to login. Starting Monday 4/6/20 you must complete 4 topics per day (this will increase one a weekly basis). NO photomath, push through and persevere, it will only help you learn and retain information. On a positive note the ALEKS program is designed just for you based on your needs. Make sure you have a notebook to record your daily ALEKS work, I will monitor your progress weekly to make sure you are completing the required amount of assignments. This will be a 100 point weekly completion (out of number of topics completed) grade.

3. Starting next week, Monday 4/6 we will be following the course of our ISN, I will post a weekly assignment with a link(s) to videos that will help you through the work. You will need to print the assignment or write down all the problems, complete it, and send it back to me in Google Classroom on the Google form.

4. We may, more towards the end of the quarter, work on a budget project. Information forthcoming when necessary.

Econ - Monday 4/6/20 - May ?:

1. Weekly question and paragraph (well written, at least 7 sentences, correct grammar, spelling, puncuation, varied sentence structure) due on Thursdays at 11:59 pm.

2. Weekly Crash Course topics, with link to video, complete assignment and submit through Google Classroom.

3. We may be incorporating a budget project that will we will work with cross curriculum with Ms. Blanchard's class. Info to come when necessary.

Study Skills - 4/6/20 - May ?:

1. Weekly CNN story summaries.

2. Weekly grade /assignment completion reflection.

4. Other assignments as needed.

Thank you, I miss you, this will all be ok!

Mrs. Ruiz

Spread the word to your classmates via social media! Here are your google classroom codes as well as a link to google classroom:

Pre-Algebra - lcnkous

Econ - fpiye6k

Study skills- pqxopvd

https://classroom.google.com/h

Education

C.D.O High School

U of A - B.S. Sociology, Political Science, and Child Development

Prescott College - Teacher certification

Prior Experience
AZ Children's Home
Desert Hills Adolescent Psychiatric Hospital
La Cima Middle School
Amphi Middle School
Why I am committed to Amphi
I am an Amphi product; Donaldson, Cross, and CDO. It just feels right to be here.
Defining Moment in my Education
I had four amazing HS teachers who had a profound impact on my life. Not only did they teach me about chemistry, grammar, sports and literature, but also how to build my self-confidence, build relationships and how to manage multiple tasks. I want to be that person.
Why I Teach at IRHS
I have spent 24 years working at the Middle School level. With my own children now older, I felt it was time to take on a new challenge and thought IRHS would be a welcoming, exciting place to do that.
Hobbies and Interests
Enjoying watching my grown children begin their own lives.
Going to movies and THE BEACH!
Being involved in the YMCA.
Outside walking, exercising, walking my dog, drive my cats crazy with the laser pointer.